You may have seen some particles of soil around your home that look like small yellow or orange balls. These balls are slow-release fertilizers that can be found in the soil. Although they are meant to help with plant growth, they are sometimes mistaken for insect eggs.
Let's explore these balls a little further and find out more about them!
The balls are created by mixing slow-release nutrients with fine clay particles. Once the water is added, the mixture forms into a ball-shaped structure that slowly releases the nutrients. The balls are easy to spot in soil because they have an orange or yellow coloration.
These little balls look very similar to insect eggs, but there are a few ways to tell them apart. For example, the color of the balls may be slightly duller than that of real bug eggs.
When you examine them closely, you can see an uneven surface where the clay is molded together with nutrient-rich material. Another way to spot these balls is by their weight. Usually, they are heavier than an insect egg.
What are Fertilizer Balls?
Fertilizers are important for making a space more productive. You can either use natural fertilizers in the soil, which are usually made from animal waste, or you can use manufactured fertilizers that are created in factories.
Fertilizers come in many different forms, one of which being slow-release fertilizer balls. These yellow- or orange-colored balls can be found in the soil, and although they are added as slow-release fertilizers, these balls are at times mistaken for insect eggs.
Slow-release fertilizer balls work differently than other forms of fertilizer. One difference is that slow-release fertilizer balls must first dissolve before any nutrients become available to the plant.
Another difference between slow-release fertilizer balls and other forms is that the nutrients are released gradually into the soil instead of instantly. These fertilizers allow the plant to feed throughout the entire growing season, rather than just in one initial burst.
There are many advantages to using slow-release fertilizer balls for your plants over instant or natural ones. One advantage is that the nutrients are released over time, which allows for continuous growth.
Also, not all of the nutrients are released at one time since it is a slow-release fertilizer ball. Because of this, there's no risk of burning your plants or roots with too much fertilizer.
These balls also work to replace any lost nutrients in the soil over time due to weather or other factors. They can help restore any nutrients that may have been lost over a period of time. Also, they allow the plant to be as productive as it could be at its peak.
Reasons for Using Yellow or Orange Balls in Soil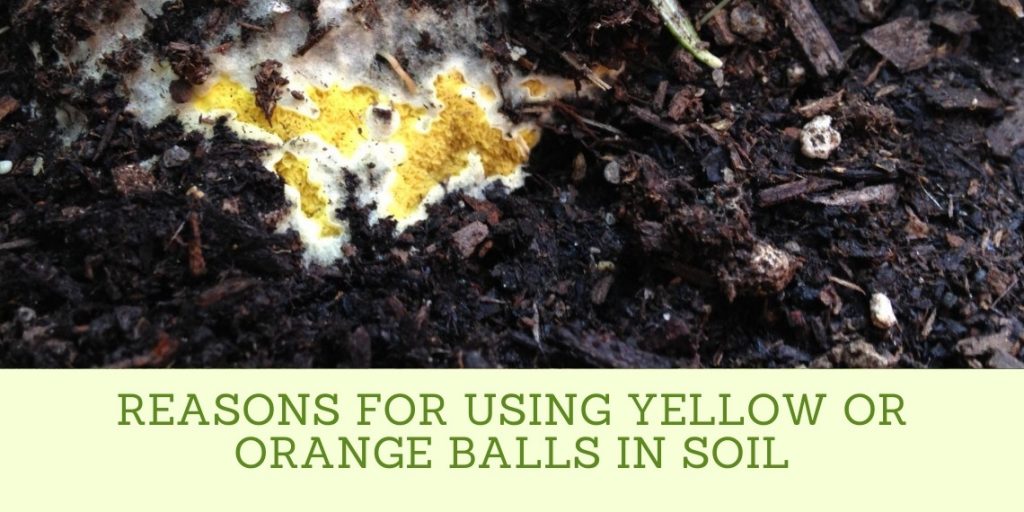 The slow-release fertilizer balls, found in the soil in the form of yellow or orange balls, can benefit your garden in a number of ways. By adding these balls to your soil, you can expect to see healthier plants, flowers and vegetables that are better able to resist pests and disease.
Here are some reasons why you should be using yellow or orange balls in your soil:
They provide a longer release of nutrients
The yellow or orange balls in the soil slowly release nutrients over a period of time, providing your plants with a slow and continuous supply of fertilizer. This keeps down the risk of leaf burn from too much fertilizer, allowing them to absorb most of it.
They provide moisture for seed germination
A dry seedbed can find it hard to germinate since seeds in dry soil often dry out. The yellow or orange balls in the soil slowly release moisture into the seedbed, allowing your plants to germinate with ease.
Provides three times as much nitrogen as normal fertilizer alternatives
Nitrogen is a vital nutrient for plants, and the yellow or orange balls in the soil provide your plants with three times more nitrogen than normal fertilizers. This keeps down the risk of leaf burn from too much fertilizer, allowing them to absorb most of it.
Inhibits weed growth
Farmers face a tough time when it comes to controlling weeds in their farms since weeds can quickly take over and ruin crops. The yellow or orange balls in the soil release a chemical that inhibits weed growth. This means you won't have to spend your weekends weeding your garden beds.
Prevents Slugs and Snails
Slugs are infamous for feasting on plants, killing them all too easily. The yellow or orange balls in the soil release a chemical that prevents slugs from feasting on your plants, allowing them to grow healthy and strong.
Can help your soil retain water for healthier plants and less runoff during heavy rains
The yellow or orange balls in the soil absorb water from the ground, allowing them to hold onto it and slowly release it throughout the day. This means your garden beds won't get swamped during heavy rains.
Is 100% organic and environmental-friendly
You don't have to worry about polluting the environment with harmful chemicals if you use yellow or orange balls in your soil. They are 100% organic and environmentally friendly.
Provides long-lasting fertility
The yellow or orange balls in the soil release nutrients slowly over time, meaning your plants receive continuous fertilizer for up to three months at a time.
Contains an offensive smell that wards off animals who may otherwise dig up your garden
The yellow or orange balls in the soil emit a foul, fishy smell that's offensive to raccoons, squirrels and other animals. It keeps them from digging around your garden beds.
They are completely reusable
After adding the slow-release capsules to your garden beds, you can remove them at any time once they stop releasing nutrients into the soil. This means you can reuse the balls for a garden bed that requires more fertilizer or even share them with a friend.
Safe to use with other fertilizer alternatives
The yellow or orange balls in the soil are safe to use with other fertilizers, meaning you can finally have a full garden without constant fear of fertilizer burn.
Now that you know about yellow or orange slow-release fertilizer balls, you have no excuse not to use these beneficial capsules in your soil. Try adding them into your gardening routine today and see how much of a difference it makes to your plants and soil.
Nutrient Content in Yellow Fertilizer Balls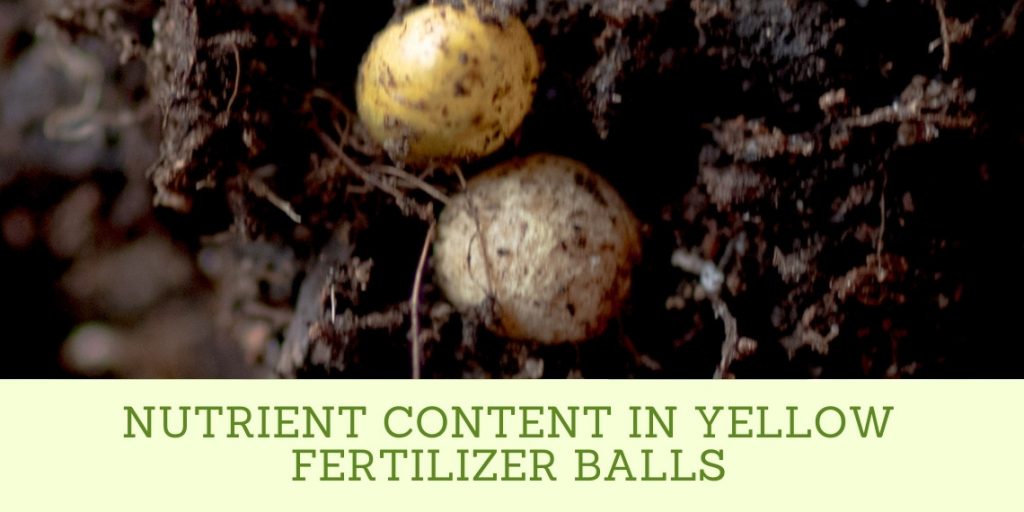 These fertilizer balls are actually packed with nutrients that help plants grow healthy and strong. Let's learn more about the nutrient content in these fertilizer balls and how they can benefit your garden.
Nitrogen
Nitrogen helps encourage plant growth and green leaves. It also helps with the formation of flowers, so your garden will not only look lush and green but will also have blooms.
Phosphorus
Phosphorus works closely with nitrogen in terms of development. It is great for flower production as well, which can ensure that you have a healthy crop to take out at the end of the season.
Potassium
Potassium helps with healthy stem growth and is great for flower production. It also helps with the uptake of water by plants, ensuring that your flowers get all of the nutrients they need to thrive.
What if the Colored Balls are Insect Eggs?
As you know by now, these slow-release Osmocote fertilizer balls can be mistaken as insect eggs. This is because the yellow or orange balls have a similar appearance to insect eggs and are found in the soil.
But unlike these fertilizers, which slowly release nutrients into the soil, insect eggs hatch very quickly. The insects that come from them will eat away at your plants and flowers until there is nothing left to enjoy.
The colored balls are also mistaken for pests, such as mealybugs and scale insects on indoor plants. These insects look quite similar to the fertilizer ball when they're young and small. Therefore, you must be very careful when it comes time to do some bug hunting.
To avoid any confusion with egg-laying insects, know what is healthy for your plants and flowers and what is not:
A healthy plant stem will be firm and round. If it is soft, mushy or wrinkly, you can assume that insect eggs have been laid on the stem of your plant.
Healthy plant leaves will be stiff and flat. If they are wrinkly with a concave appearance, then you may have an insect infestation on your hands.
Healthy flowers will emit a pleasant and fruity smell. If they emit a foul odor or emit discolored plant fluids, this is another sign that there could be insects laying their eggs on your flowers.
Now that you know the differences between the slow-release Osmocote fertilizers and insect eggs, it's time to take a peek around your garden for yellow or orange balls in the soil. They will be found most often near plants and flowers.
Make sure to do some bug hunting regularly because this way, you can keep your plants healthy and beautiful.
How to Treat if They are Insect Eggs
If you're absolutely sure it's not a fertilizer but might be insect eggs, then there are some steps you can take.
If you want to get rid of them quickly, then grab some rubbing alcohol or hydrogen peroxide and pour it into the soil around the area where they were found. The eggs should dissolve within a few hours.
Make sure you don't pour it directly onto the eggs because if they are not actually eggs, this could damage your plants.
If you want to get rid of all of them inside a pot, then add some boiling water and stir well. Let it sit for about 20 minutes before pouring out the water and rinsing thoroughly. This should kill the eggs within the pot.
If you think that the eggs may be unnoticed in your soil, then sprinkle some talcum powder on top of them and wait a day or two. If the eggs have been laid inside of the dirt, then they will begin to expand as they swell from absorbing moisture from the air.
In case there are no eggs, then nothing happens. But if they are there, then the eggs will begin to swell and become visible within the powder.
In Conclusion
Remember, these balls may be a fertilizer, but they are not insect eggs. If you find yellow or orange balls in your soil, do some research to determine if it is the slow-release Osmocote fertilizer ball and then dispose of them accordingly.
It's important to know what type of material you're dealing with so that you can properly handle it. The last thing anyone wants on their hands is an infestation.