A garden bed against a brick wall can be really pleasing to the eye, as well as easy to maintain. Garden beds are wonderful for adding color and contrast to any space, but it's important to consider how you want your garden bed to look when deciding on materials.
A raised brick garden edging is perfect for creating a square edge around your bed and the plants within. It adds some extra height and visual interest that will make this design pop.
It's also a great idea if you have small children as they won't be able to get into the garden bed easily. The raised edges of this design will help keep your plants contained. Also, the brick adds another layer of charm that will make you fall in love with your space time and time again.
Brick Garden Edging: Garden Bed Against a Brick Wall
One of the great things about raised garden beds is the fact that they can be easily constructed and installed. If you have an existing brick wall or a fence, you can use it as part of your backyard landscaping project by adding a border made from bricks to create a beautiful and functional addition to your outdoor area.
A brick garden edging is a perfect complement for any type of border, whether you want it to be the main focal point or just use it as decoration. If you are looking for something that will keep your plants neatly contained, this is the solution that you need to consider.
Brick garden edging is a great solution for gardens, patios and other outdoor areas if you want to add a touch of elegance. Simply choose the bricks that go with your backyard landscape design and build the border around any flower bed or garden area.
Steps to Build Garden Bed Against a Brick Wall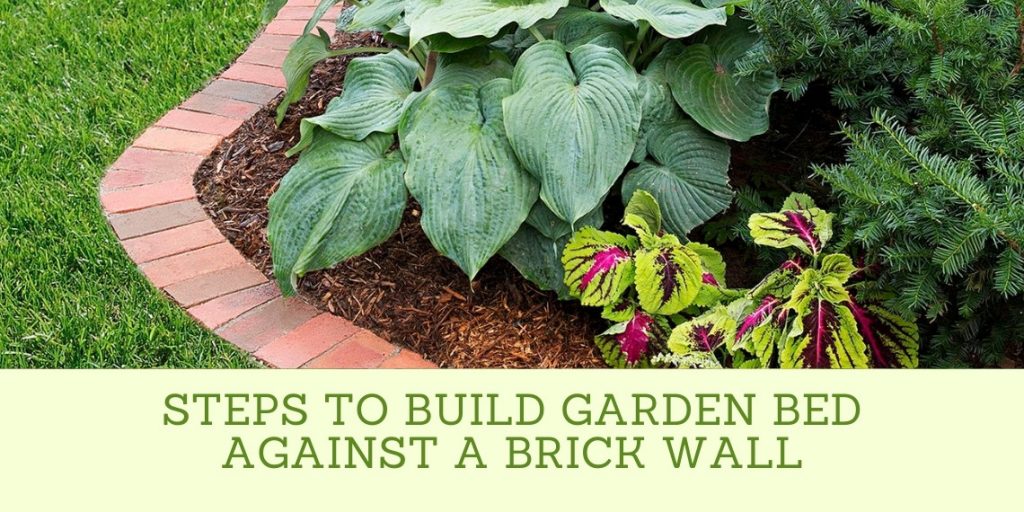 Building a raised garden bed along a brick wall is a great way to add some life to an otherwise dull exterior. Not only will it make your garden more attractive, but it will also help keep the soil in place and add some extra insulation during the colder months.
Here are the steps you need to take in order to build your own raised garden bed against a brick wall:
Step 1: Dig the Soil Deeply
The deep digging of soil at a depth of 10 to 20 inches or more is necessary for a successful raised garden bed. This allows the roots to go deeper into the ground, making them strong, sturdy and durable.
Step 2: Cast the Excavated Area with Bricks
Using bricks as the base of the raised garden bed gives it a distinctive look and makes it stronger. It also serves as a retaining wall that keeps the soil in place. Just lay two rows of bricks at a distance from each other, then fill up with well-compacted soil you have dug out earlier to cast it around the brick walls.
Step 3: Line another Brick Layer
Line another brick layer on top of the first one. Lay two rows of bricks on the area where your first brick wall is located.
Next, fill up the space between with well-compacted soil to hold it in place. This second row should be laid tightly against the first row for stronger support, and do not forget to leave a small space between the two layers.
Step 4: Put a Waterproof Barrier
Place a waterproof barrier around the garden bed to protect it from getting wet, especially during periods of heavy rains. This will also serve as a good foundation for your outdoor rug or other floor coverings you might want to add later on. You can use landscape fabric or plastic sheeting for this purpose.
Step 5: Add the Bottom Layer with Organic Material
Add one to two inches of organic material like compost, peat moss or finished humus on the waterproof barrier. Organic materials enrich the soil and make it easier for plants to get root nutrition.
Step 6: Fill up with Topsoil
Fill up the garden bed with good quality topsoil until the surface is even, then compact it by stepping on it or rolling a lawn roller.
Step 7: Place the Plants in Your Garden Bed
Plant your flowers, herbs and vegetables according to their needs taking into consideration the sun exposure, pH level of soil and their mature height and spread. Water them regularly for about two weeks, then stop as they become established.
Step 8: Maintain and Care for Your Raised Garden Bed
Keep your raised garden bed weed-free by pulling the unwanted ones as soon as they sprout out. Remove dead leaves regularly from your plants to encourage better growth and plant nutrition. Water them during dry spells but only when the topsoil is completely dry.
Waterproofing Foundation of your Wall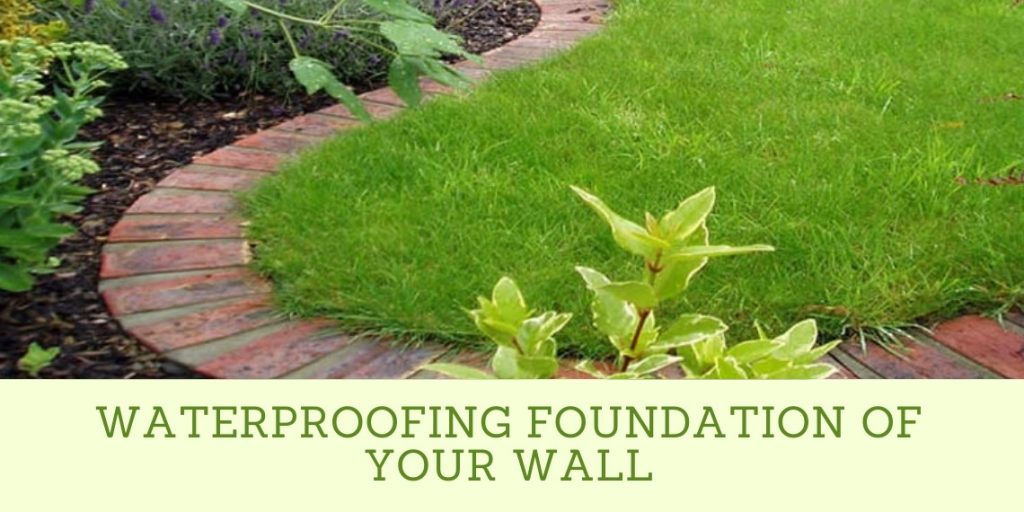 Waterproofing your foundation is a must during tough times of the year when rain and snow are piling up, and even during the dry seasons to protect your home from water damage. There are many ways you can go about this:
Concrete Sealant
This is one of the most popular methods. This can be applied to any concrete base and will protect it against water damage, as well as provide a stronger structure for your foundation. If applying to an existing footing, you must remove all dirt and debris before applying by pressure spraying with water or power washing. The surface must also be completely dry before proceeding.
Fiber Cement Board
This method is for exposed foundations such as block or stone walls. You will need to apply building paper first, then fiber cement board, and finally another layer of building paper before applying the waterproofing agent of your choice.
Polyurethane Sealer
This is a better option for metal pier footings, as well as any other surfaces where a standard concrete sealant isn't the best choice. This is a chemical-resistant coating that does not leave a film or residue on the treated surface.
This also provides additional strength to your foundation structure and will protect against water damage. Polyurethane products must be applied with a brush or roller, and it is also best to spray water on the surface before application to reduce initial curing time.
Epoxy for Walls
This is perfect for any exposed foundation area that's made of brick or stone. You will need to clean off the area first, then apply with a brush or roller. As always, make sure surfaces are dry before proceeding with the application. Other options include paints and elastomeric coatings.
Bitumen Paint
This coating is typically used on the interior side of foundation walls but can also be applied to the exterior surfaces. This product will not crack or peel in any climate conditions and will expand when exposed to water.
Another great benefit is that it's reasonably priced when compared to other waterproofing treatments.
Bentonite
This option does not allow moisture to pass through, making it 100% waterproof. Bentonite clay can be poured into the foundation cracks or around metal pier footings.
Once it is poured and begins to dry, it will expand and fill the cracks and crevices of your foundation. This prevents any excess moisture from getting inside the walls.
If this product isn't available in your area, you can make a paste out of corn starch and water and apply it in the same way as the bentonite clay. In order for this to work, you must reapply every few years or after heavy rain.
Tree Root Barrier
Depending on where you live, tree roots can be an issue in your yard. Is your house surrounded by trees, or has large oak trees that are popping up in the middle of your yard? If so, this can be a serious problem when they grow into your foundation and pop it up through the ground.
To prevent this from happening, you should use either a root barrier or a chemical product such as Root-Stop. Locate the beginning of the roots and apply in small sections, making sure it's protruding just above the ground level.
If you are having trouble with water seepage and want to waterproof and protect your foundation, there are many options available to homeowners. Make sure you do the research and select a product that's right for your needs and budget – or call a professional if needed.
Benefits of Using Barrier Lining While Constructing
There are many benefits to using Barrier Lining during construction. Barrier lining can help keep moisture out of your concrete and will also prevent it from deteriorating, which could save you a lot of money down the line.
Barrier lining is a great way to protect your home or business from water damage, so make sure you invest in this useful material for all your future projects.
Here are some of the benefits of using barrier lining while constructing garden edging:
Keeps Roots at Bay
One of the main benefits of using barrier lining is that it helps to keep the roots of plants at bay. If you don't use barrier lining, then the roots could eventually penetrate the concrete and cause damage.
By using barrier lining, you can prevent this from happening and keep your plants healthy and looking great! Barrier lining also keeps moisture away from the concrete, preventing it from deteriorating over time.
As you may already know, keeping moisture out of your concrete is not only great for plants, but it will also save you a lot of money. Barrier lining helps to waterproof your concrete so that you won't have to worry about any damage down the line.
Protects from Pests and Weeds
Another great benefit is that barrier lining helps to protect from pests and weeds. If you don't use barrier lining, you'll eventually find your garden edging flooded with noxious weeds as well as insects. Insects and rodents often nest in the soil near concrete because it's moist.
If there is a crack or a small opening near the concrete, they will make it their home. Barrier lining prevents insects and rodents from entering the area near your concrete, which can prevent damage as well as various diseases.
Keeps Moisture Out of Concrete
One of the main benefits of using barrier lining is that it helps keep moisture out of the concrete. If you don't use barrier lining, then the roots of plants could eventually penetrate the concrete and cause damage.
By using barrier lining, you can prevent this from happening and keep your plants healthy and looking great. Barrier lining also helps keep moisture away from the concrete, preventing it from deteriorating over time.
As you may already know, keeping moisture out of your concrete is not only great for plants but will also save you a lot of money in the future. Barrier lining helps to waterproof your concrete so that you won't have to worry about any damage down the line.
Saves Money
One of the biggest benefits of using barrier lining is that it can help save you money in the long run. By preventing moisture from getting into your concrete, you can avoid expensive repairs or replacement costs.
Additionally, barrier lining can help keep your foundation stable and protect it from water damage, which can also be costly. So, if you're looking for a way to save money on your next construction project, be sure to consider using barrier lining.
Using barrier lining can also help you create a better foundation for your garden edging. Barrier linings will provide the strength and stability that is needed to prevent shifting, which will ensure that your edging lasts longer.
It's important not to use construction adhesive on barrier lining, but if you do need to remove it at any time, then this shouldn't be a problem.
Overall, barrier lining can work as a great foundation for your garden and help you create an edging that will last longer.
Will the Soil Damage your Wall?
A garden bed is a great way to add color and life to your outdoor space, but what happens if you put it up against a brick wall? Will the soil damage your wall? The answer is yes, and here's why.
Brick is porous, and it has the potential to absorb moisture from your soil, which could lead to water damage. The brick can also retain moisture if you have a garden bed up against a wall that receives a lot of sunlight. The moisture retention can lead to mildew problems or even moss growing on your wall.
There are ways you can still have a garden bed against a brick wall, however. First, make sure you use plastic edging along the perimeter of your brick to mark where your soil will be. This barrier will help regulate the amount of water that comes in contact with your brick.
You should also make sure to use at least 6 inches of gravel or rock under the soil to ensure proper drainage and plant only drought-tolerant plants in this kind of landscape bed.
Caring for your raised garden bed against a brick wall is easy! Just be mindful of the amount of sunlight that hits that area. You'll want to plant mostly shade-loving plants that require little water if you can't give them dappled sunshine throughout the day.
Some great options for this type of garden bed are hostas, ferns and mosses, or even creeping thyme.