In order for a plant to survive and grow properly, it must have the right amount of nutrients available. Green balls in soil serve as a slow-release fertilizer ball that provides these nutrients by supplementing them into the soil of your plants.
They work to release just the right amounts of nitrogen, phosphorus and potassium over time. This helps keep your plants healthy.
However, if you are noticing green balls in soil that resemble slow-release fertilizer balls, it could actually be insect eggs. Insects such as moths and butterflies lay their fertilized eggs in the soil. If the eggs are laid in areas where plants are growing, you may be seeing their offspring, which have hatched.
These larvae will eat away at your plants while they grow bigger and stronger, damaging them until your plants die. If you see these green balls in soil, remove them immediately to prevent this from happening to your garden or potted plants.
This guide will help you learn more about the difference between these two similar things.
Why are Green Balls Present in the Soil?
Green balls are commonly placed in soil for plants. The balls themselves are a slow-release fertilizer and help to supplement the nutrients present in the soil. In particular cases, this could be insect eggs.
Fertilizer Balls
Green balls are generally found in potting soil, which is a type of garden soil that helps to sustain the growth of the plant. These green balls are usually small, round and made from plastic.
Green balls contain nutrients for nourishing the plant, such as nitrogen and phosphorus. This could be particularly important when planting seeds because they support germination. As the plant begins to grow, the green ball slowly releases these essential nutrients.
These balls are also used as a slow-release fertilizer. The small ball releases nutrients over time, rather than all at once like other fertilizer products. This process can make it easier for plants to absorb them and ensures they don't burn or wilt away.
These green balls are also much cheaper than other fertilizers, making them more accessible for just about anyone to use.
Insect Eggs
The balls could also potentially be the eggs of harmful insects. The green color is similar to leaves, which makes it easier for bugs to blend in when laying their eggs. People should watch out for pests like these, so they don't transfer diseases or ruin crops.
For this reason, it is essential to contact pest control if people suspect the presence of insect eggs. A professional can safely remove them in the safest way possible. This will prevent any further damage in the future.
Seeds from Plants
In rare cases, green balls could be seeds from a plant. These types of plants grow their own food and don't require any help from people in the process. Seeds are usually very easy to identify because they are green or brown in color. They can be buried in the ground and will begin to grow as they absorb water.
Green balls in the soil are an interesting topic that most people know little about. It's essential for people to do research if they're interested in learning more about how plants grow and what nutrients are present in them.
How to Know What the Balls are Exactly?
You can find out if the balls are fertilizers, insect eggs or seeds that have fallen from a nearby plant by taking the ball out of the dirt and looking at it closely. If you see small holes in it, then it is likely that there are some insects inside. If not, you can also take a knife and cut it into the ball to see what is inside of it.
In case you find that the ball is filled with some sort of liquid and there are no holes in it, then it is likely some type of fertilizer. It should have a very strong smell. If it does not, then this type of ball will not help your plants much.
If the ball is solid all the way through, then it is likely a seed from a nearby plant. Because plants often drop their seeds down close to where they are growing, this type of ball will help your plants grow right next to it.
If this is not desirable, you can simply dig up the ball and place it in another area of your garden.
Can the Green Balls Harm the Plants?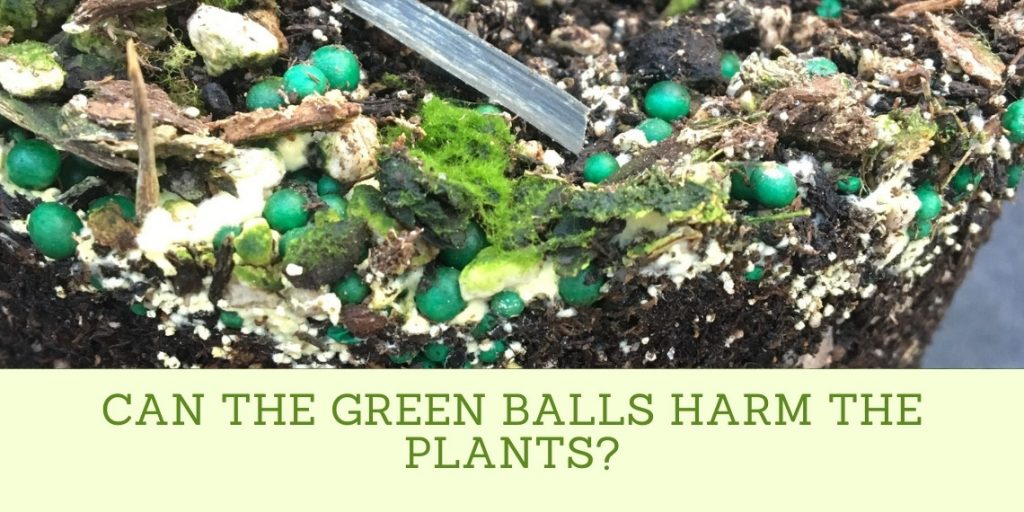 In most cases, the balls do not cause any harm to the plant. The balls designed for the slow release can help in providing a constant supply of nutrients for the plant. Many gardeners claim that the presence of green balls increases their harvest and reduces their need to water plants.
That said, if the green balls are actually insect eggs, then the plant could be in danger. Insects can harm the plant by eating away from the inside or laying eggs in it. Plant roots could also be destroyed by insects that feed on them.
The only way to know is to break one open and see what is inside. Those tiny green balls are usually packed with nutrients for the plant.
Ways to Get Rid of the Green Balls
You do not need to get rid of the green balls if they are fertilizer balls because they cause no harm to your plants. However, if they are eggs, you will want to get rid of them as soon as possible.
Below are two methods you can try to get rid of the insect eggs:
Repotting the plant
Repotting the plant will make it easier to get rid of the insects. Remove the soil completely and discard it. Then, wipe the roots using a cotton swab dipped in alcohol and placed them back in the potting soil. Wait for at least one week for signs of insects before returning to normal care routine.
Handpicking
If repotting doesn't work, you can try handpicking them off by getting rid of the top layer of soil and digging carefully. Then, check for any eggs on the roots before you put back the soil.
Don't forget to put on gloves when doing this method to avoid contact with the insects. If you do touch any insects, wash your hands thoroughly with soap and warm water.
Chemical Pest Control
Choosing chemical pesticides is the most long-term option that should be used after trying other methods to get rid of insects. It's not recommended for organic gardeners since it might harm other plants and animals. Read the instructions carefully before use to avoid harming your plants or pets.
The Bottom Line
Green balls in soil are usually a sign of healthy plants, but they could also be insect eggs. If you see green balls that look like slow-release fertilizer balls and your garden is producing lots of fruits and vegetables, then there's no need to worry.
On the other hand, if you're noticing them while watching out for pests or diseases on your plants, then it might be time to call an expert gardener or pest management company. The experts can help identify what type of insects have laid their eggs in the dirt and provide treatment as needed.
In any case, make sure to keep up with regular plant maintenance tasks such as watering regularly so that both adult moths and butterflies can't lay their fertilized eggs near these valuable food sources.