You can trim roots in hydroponics for the perfect plant growth. Hydroponics is a great way to garden without soil, and it offers many benefits over traditional gardening methods. When it comes to trimming roots in hydroponics, there are a few things you need to know in order to get the best results.
For the best results when trimming roots in hydroponics, you need to remember that plants are living things, and they rely on beneficial bacteria for growth. These bacteria live all over the roots, but most of it is concentrated at the root tips.
This means if you want to have a healthy plant, there will be no need to cut off more than the very tip of the roots. Cutting any more off can result in harming or even killing your plant, which defeats the purpose of trimming roots in hydroponics completely.
How to Trim Roots in Hydroponics
By following these simple steps, you can keep your plants looking their best and performing at their peak.
Step 1: Make sure your plant is healthy before beginning to trim the roots.
Step 2: Ensure that all of your tools are clean and sterilized before use. This is especially important when working with hydroponics because even the tiniest bit of bacteria could cause significant issues for your plants.
Step 3: Prepare a diluted bleach solution (1 tsp to 1 gallon of water). You can use this solution to clean your root clippers before and after you trim the roots.
Step 4: Be sure that your trimmer blades are sharp so you can cut through the roots properly. If they aren't, they will only crush the tissue without slicing it off. A good rule of thumb is that the sharper the blade, the cleaner and more effective the trim.
Step 5: Clip off any dead roots before moving on to healthy tissue. Rinse them gently under running water if they are difficult to remove from their main structure.
Step 6: Trim off any damaged or diseased tissue with clean and disinfected clippers. This type of tissue can cause root rot and other issues with your plants if it is left untreated.
If you follow these steps when trimming your roots, you can expect a healthier and more attractive plant.
What are the Benefits of Root Trimming in Hydroponics?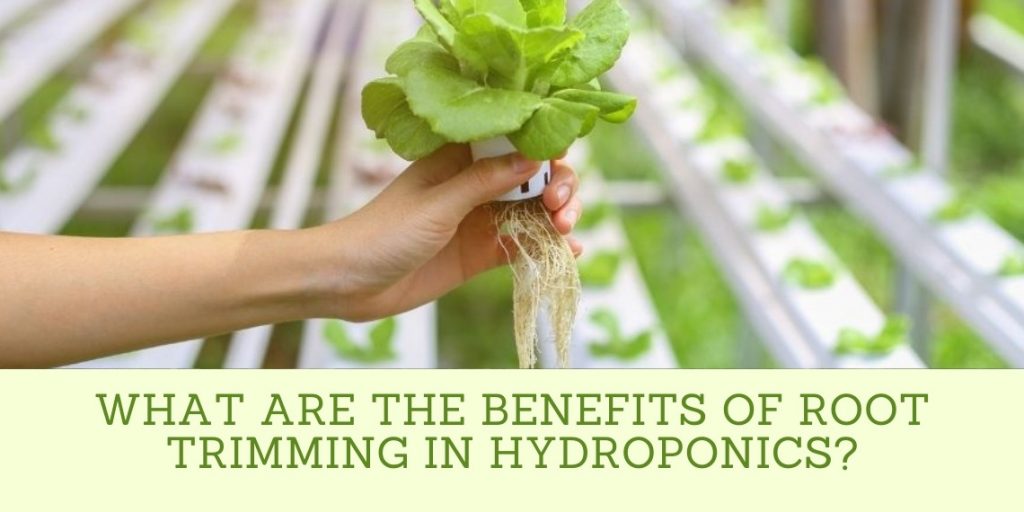 Root trimming is the process of removing unwanted roots from your hydroponics system. While it may sound like a lot of work to go through, there are many benefits to root trimming-not just for your plants, but your entire grow op. Here are five of the most important reasons you should make sure you're regularly trimming roots in hydroponics:
It's good for your plants.
In general, trimming roots is a great practice for all types of hydroponics systems. In fact, it's something that should be done carefully and regularly with the right tools. You'll want to make sure you're using shears, scissors or a root cutter to remove the clump of roots.
The best time to do this is once the plant has transitioned into its vegetative state and has begun growing new foliage because this marks the start of a period where your plants will begin putting more energy into leafy growth than root growth.
The less you trim during this early period, the better. You don't want to damage new growth. However, once your plant is established and the roots have been growing for a while, it's time to take action. The amount of roots will affect how fast your plants get nutrients from the water column.
You'll have fewer issues with clogged pumps.
Over time, excess root growth can actually cause some serious damage to pumps that deliver water and nutrients to your plants. Roots will begin clogging the intake valve, causing it to become unbalanced and eventually break down.
Sometimes they'll even wrap themselves around moving parts of the pump, which is highly inefficient and causes heat buildup. That's a surefire way to decrease the life of your equipment and reduce its energy efficiency.
So, in addition to being good for the health of your plants, cutting roots will help you avoid costly repairs on your hydroponics equipment that circulates water and nutrients around your grow op.
You'll save space.
Believe it or not, root trimming can actually increase the amount of usable space in your reservoir. When roots are crowded at the surface of your water column, they end up blocking light from traveling deeper into your system.
When this happens, usually the best solution is to add a second reservoir and flood table so that you can get more even distribution of nutrients around your plants.
But while adding another reservoir may sound like the most efficient way to go about it, hydroponics equipment can get expensive. Cutting off the surface roots that are blocking the light will allow you to continue using just one reservoir while saving money on unnecessary equipment costs.
You'll get better yields and quality.
As we've already mentioned, the more even and efficient your nutrient uptake is, the faster and healthier your plants will grow. This means that you'll generally see better yields and quality in a shorter amount of time.
For example, if one side of a plant has limited access to water and nutrients due to excess root growth on the other side, it will grow lopsided and become prone to disease. Cutting roots will help avoid this problem and allow for even growth between both sides of the plant.
You'll prevent disease.
Overcrowded root systems are a breeding ground for diseases that can easily wipe out your grow op. Some growers will even claim that they can tell when a certain type of disease is about to take over simply by looking at the root structure.
That's why it's so important to keep your roots cut and healthy; it keeps your plants from getting sick.