Transplanting hydroponic plants to soil can be a challenge. Although it is possible, there are some important things to consider before making the switch.
Hydroponics is one of the most efficient ways to grow plants. With this method, you feed your plant nutrients that are dissolved in water instead of soil or other mediums you would normally use when growing outside.
Even though it seems simple to just take a hydroponically-grown plant and stick it in soil to complete its life cycle, there are some important factors you should consider before doing this.
Transplanting your plants is the process of taking a potted hydroponic plant and putting it in soil or another medium for growing. You may do this to allow the plant to grow more normally outside of the hydroponic system or because the plant isn't producing well in a hydroponic environment. No matter, there are some things that you should know.
In this article, we will explore the process of transplanting hydroponic plants to soil and some of the things you need to keep in mind during the process.
How to Transplant Hydroponic Plants to Soil
Transplanting hydroponic plants to soil is a common plant care practice. Hydroponics, which is the growing of plants without soil, has been used for years by commercial growers and hobbyists alike.
However, there are many advantages to re-potting your hydroponic plants into soil: increased water retention, increased air circulation and better drainage. Here's a step-by-step guide on how to transplant your hydroponic plants into soil:
Step 1: Prepare the pot
Use a wide, shallow pot with holes in the bottom for drainage. You can drill holes if there are none. Fill the bottom of the pot with gravel or rocks to keep soil from seeping through and let water drain freely through it. Add soil that is moistened with water into your container until you have reached the desired height.
Step 2: Removing the plant from hydroponics
Remove your plant carefully from its hydroponic reservoir, trying not to disturb its roots.
Loosely wrap the roots in some moistened paper towel before placing them into soil if you want to prevent root disturbance during transplantation. If your plant is particularly large or unruly, trim the roots with a pair of scissors for easier handling.
Step 3: Bury into soil
Place your plant's root-ball into soil and spread out its roots evenly within the container, making sure it is level and not leaning to one side. Fill in empty space around the stem of your plant using more moistened soil until no roots are visible.
If there is remaining empty space in your container, top off soil until it reaches the base of the leaves.
Step 4: Watering
Wait about a week or so before watering your transplant to allow time for new root growth. Check the moisture levels of your soil by sticking your finger into the potting mix up to about an inch or two. If soil is moist, do not water your plant yet.
Allow it to dry out a little before watering again. Add water if necessary with a small garden hose or spray bottle until you see some draining from the bottom of your pot.
Step 5: Putting in Sunlight
Once the leaves have filled back out, preferably, move your hydroponic plant out of direct sunlight and start exposing it to bright light. This is an important step because, without the sun, the leaves will become pale and may curl up or turn yellow. The more sun received by your plants in their new soil environment, the better.
Benefits of Transplanting Hydroponic Plants to Soil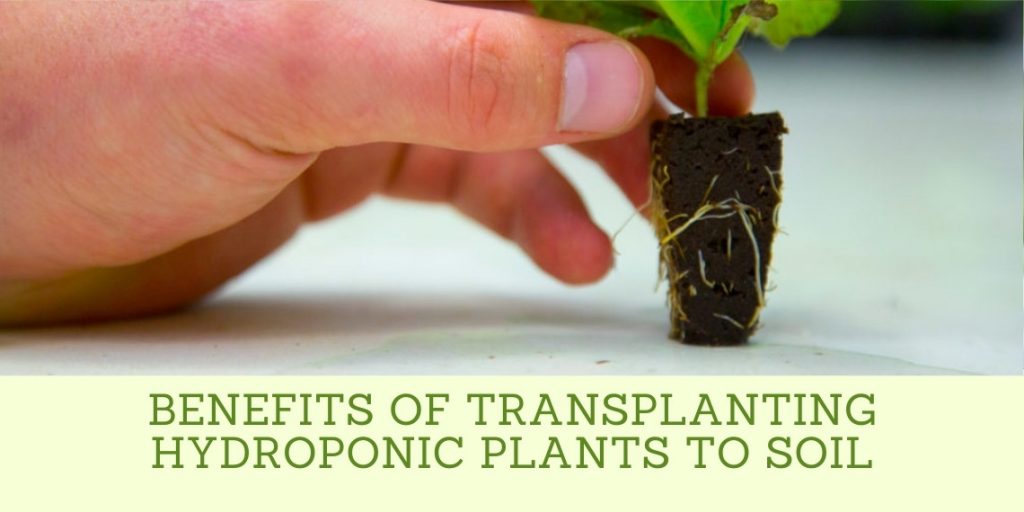 Hydroponic plants have become increasingly popular in the 21st century. More and more people are choosing to use a hydroponics system rather than a traditional garden because they believe it is easier to take care of.
Here are the detailed benefits of transplanting hydroponic plants to soil:
Increased water retention
While the roots of hydroponic plants will absorb most of the water they are given, there is not enough air circulation around the roots to dissipate the excess water. This excess water can cause root rot, where too much moisture drowns or rots part of your root system.
When you transplant your hydroponically grown plants to soil, the roots will more efficiently absorb water, and any excess water absorbed by soil will provide an extra source of moisture, which helps reduce your need for watering.
Increased air circulation
Soil provides a natural medium for aeration around your plants' root system. The lack of this vital part of plant growth can cause problems for your hydroponically grown plants. The root ball in a hydroponic system is small and bears little resemblance to the roots of its mature counterpart.
It often takes several weeks to several months for hydroponic plants to develop this natural root structure that can absorb nutrients and release oxygen, necessary components in the plant's life cycle.
When you transplant your hydroponic plants to soil, the roots will grow at a much faster rate because of this increased air circulation.
Better drainage
One of the best benefits of transplanting your hydroponic plants to soil is that it provides better drainage. Hydroponics has been criticized for its inability to provide adequate water retention and can cause problems with a plant's root system.
When a hydroponic plant is transplanted to soil, it will absorb far more water and can create an environment where there is too much of a good thing. This is why the drainage abilities of soil are paramount to transplanting your hydroponically grown plants.
The roots of your vegetation will grow deeper, allowing them to access water at a faster rate. The soil also provides the proper air circulation around the roots for improved health of your plants.
Transplanting your hydroponic plants to soil is one of the best ways to ensure that your vegetation will thrive and produce a bountiful harvest.
Things you Need to Know Before Transplanting Hydroponic Plants to Soil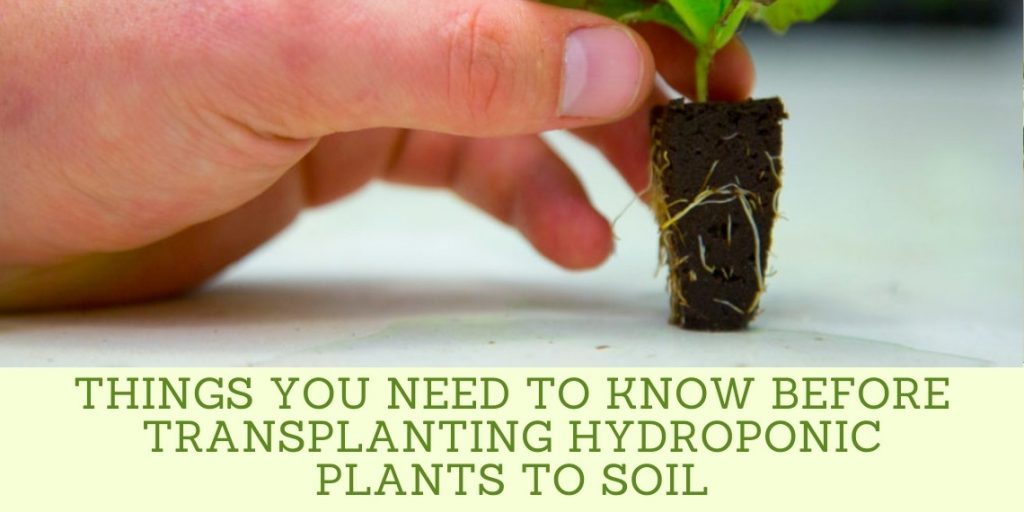 Transplanting hydroponic plants to soil can be a tricky process if not done correctly. There are a few precautions you need to take before making the switch. By following these simple steps, you can help ensure your plants make a smooth transition and thrive in their new home:
Testing pH Levels
When you first transplant your hydroponic plants to soil, it's especially important to test the pH levels of the surrounding ground. Hydroponically grown plants thrive in an environment with a 6.0 – 6.5 pH level, so it's essential that you get their soil into that same range for best results.
Consistent Water Levels
One of the best things about growing hydroponically is that there are no weeds to deal with, and you don't need to worry about your plants becoming overtaken by neighboring weeds.
To enjoy this advantage in soil, you'll need to take special precautions to ensure that your plants are never short on water or fertilizer.
It's recommended that you water your transplanted hydroponic plants every day for the first two weeks of transplanting. Afterward, you can cut back to every other day or just a few times a week.
Maintaining Nutrient Levels
Your transplanted hydroponic plants will still need fertilizer after being moved to soil. The easiest way to do this is to set up an automatic system of fertilizer delivery so that your plants are constantly being fed the right amounts at all times.
It's important not to overfeed plants, though, as the soil has more nutrients than hydroponics and can cause nutrient toxicity if given too much.
Taking these precautions can help ensure a smooth transplant process and a beautiful, healthy growing environment for your hydroponic plants.