As spring moves in, many of us will be noticing white balls in our soil. So, what are these curious white balls in the soil? They could be harmless, or they could indicate a serious problem in your garden.
White balls in soil could be perlite balls used to amend soil for better aeration and drainage. In certain cases, however, they can also be insect eggs, which you need to get rid of immediately. That said, the white balls could be white fungus also. They could be clumped together, thus forming a fungal colony.
Therefore, it's important to know the difference so that you can take the appropriate steps to address either problem. In this guide, we will tell you more about perlite balls, insect eggs as well as fungus balls. This way, you can determine which of these is causing the problem in your garden.
White Balls as Perlite
Perlite is a mineral that can be shaped into many different forms. It's typically white in color and looks like Styrofoam or very coarse sand. Perlite is often added to soil for better aeration, moisture retention and drainage.
It is sold as perlite balls, which are small porous chunks of this material that anyone can add to their garden or plant pots.
Perlite balls are typically 1/4 to 3/8 of an inch in diameter, making them larger than most other types of amendments designed for potted plants. Perlite is often mixed with soil to increase the percentage of perlite in the mixture above 10%. Soil usually contains only about 2% perlite.
Perlite has a high-water retention quality, which allows it to hold onto moisture and provide plants with consistent access to this resource. This leads to healthier plants that have better foliage. Perlite is often used in cacti or succulent soil mixes because these plants require excellent drainage.
Why use Perlite Balls?
Perlite, when added to soil, can help with many different things. It's lightweight, porous and helps retain water for plants that might struggle in dry soils or containers. This is particularly helpful during long summer months when the soil might become very dry due to high temperatures.
By adding perlite balls to the container before planting or adding them to soil at the bottom of the pot, plants will be better able to draw moisture from within their growing medium.
Perlite can also help with the aeration of soils. It helps break up heavy soils, which might become waterlogged and smother delicate roots. Soil that is too compacted can also prevent proper drainage, so perlite can aid in preventing this too.
White Balls as Insect Eggs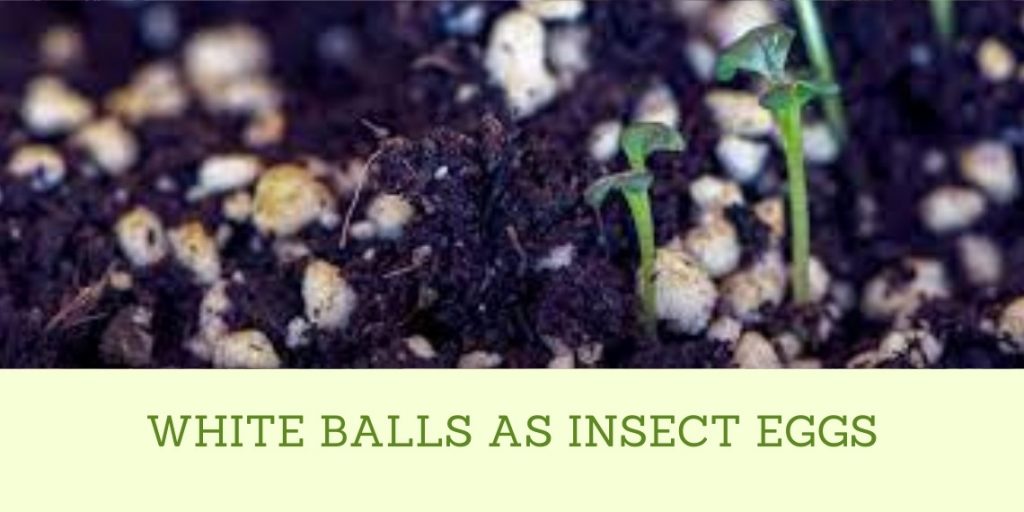 You may have seen small, white balls in your soil and wondered what they were. Chances are, they're insect eggs. These small balls can hatch into a variety of different insects, such as beetles, ants, wasps and bees.
If you are not sure if the objects in your soil are eggs, take a closer look using a magnifying glass. If they are indeed eggs, you need to remove them if you want to prevent the hatching of the young.
White Fungus Balls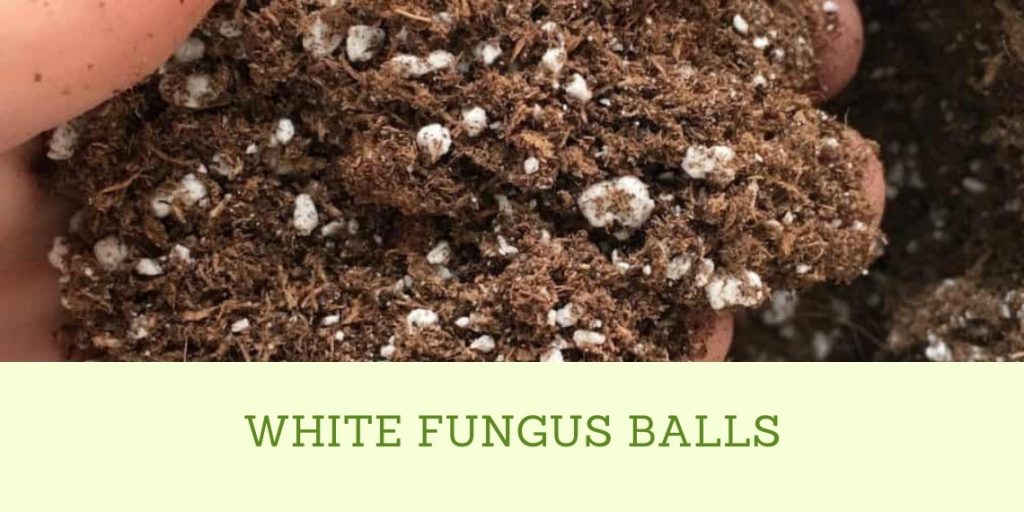 White fungus balls are fungal colonies. They can be found in soil, on plants, and on other surfaces. These balls are made up of many individual fungal cells that work together to form the colony.
The fungus will use the soil to anchor itself and manufacture nutrients from decaying organic matter. The white fungus balls can be seen as a cloak of cells that surround the surface of the soil, breaking it down into smaller bits that can then be absorbed by all of the members of this fungal colony.
In order to get enough sunlight for photosynthesis, the fungus may grow upwards in order to get closer to the surface.
White fungus balls are frequently seen on growing mediums such as soil or compost. This type of fungus is commonly found in regions with high humidity and warm temperatures, though it can also be found in cooler climates during certain times of the year.
The problem of white balls in soil is frequently seen in greenhouses, where humid air and warm temperatures create the perfect conditions for fungus growth.
Where Does the Fungus Come From?
The white fungus balls can come from many different places. They may form on the surface of the soil, or they may grow from within the soil itself. In some cases, they may form on plants or other surfaces.
They are usually white in color, although they sometimes have a pale yellow or pale pink appearance. The dead fungus is often brittle and breaks apart easily. Fortunately, there are several ways to get rid of them when they sprout up in unwanted areas.
Getting Rid of the White Fungus Balls
White fungus balls can be quite easy to get rid of. There are several methods that can be used to help rid your home or property of these fungal colonies.
These fungus balls aren't usually fun for anyone to see or deal with, so it's best if you can get rid of them as soon as possible. However, be careful because some methods could damage your garden and may even kill off beneficial bacteria in the ground.
Remove the Organic Matter
One method is to remove the organic matter. This way, the fungus will not have anything to feed on and will dry out and die. This may not always work because sometimes fungus can feed on inorganic material such as rocks or sand.
If the fungus feeds off organic matter, you might be able to make it starve by removing all of the resources it needs to survive.
Dry Soil
Another method is to simply let the soil dry out. The fungus requires high humidity conditions to grow. If you allow the fungus to dry out, it will die off because it is unable to survive in drier conditions. However, be careful because there's a high chance it may affect your blooming plants in the garden.
Fungicide
Using a fungicide can also work. You can apply the fungicide onto the soil, making sure that it coats each particle of soil to eliminate fungus from growing in your garden.
However, be careful because some types of fungicides are known to kill beneficial bacteria in the ground. It could make flowers grow weaker over time. It would be best to research the fungicides and find one that is less harmful to soil and flowers.
Dish Soap and Baking Soda
Dish Soap and Baking Soda can also work. If you mix dish soap, vinegar, baking soda, and hydrogen peroxide together in one spray bottle, it will create an acid that could kill fungus.
You can spray the solution onto the soil to see if this could have any effect. However, be careful because using too much of this mixture can be very harmful to flowers.
Murphy's Oil Solution
Another method is to mix Murphy's oil, water, and baking soda together. The solution will kill the fungus without harming the flowers. You can spray this onto affected soil and see if it helps get rid of any fungus colonies that may be present.
Vinegar
Another method is to spray white vinegar onto the affected soil. The acidity of the vinegar could help kill fungus on the spot. However, be careful because some types of fungal colonies can feed off of vinegar and use it as a nutrient source for growth.
If you want to try using this method, simply spray some white vinegar on the affected area and see if this has any positive effects.