Did you know that you can water your plants with rice water? It's true! Rice water is a great way to help your plants grow healthy and strong. Not only does it contain nutrients that are essential for plant growth, but it also helps to protect them from pests and diseases.
In the past, rice water has been considered a by-product and was only given to plants as an afterthought. Fortunately, we now know that not only do plants need all of the nutrients they can get, they also need clean water.
Rice water is a great way to help your plants grow strong and healthy without polluting their environment with any harmful chemicals.
Rice water contains nutrients that are essential for plant growth, including nitrogen, calcium, phosphorus, sulfur and iron. It also contains trace amounts of magnesium, sodium, copper and manganese.
Rice water also acts as a natural pesticide because it contains saponin. Saponin is nature's perfect insecticide—all of the bugs that hate saponin will avoid anything that has been treated with rice water.
What is Rice Water?
Rice water is simply the water that you use to boil a pot of rice. You can collect it after you drain your rice or save it in a container for later use. It's very important to note that rice water loses its nutrients as it evaporates, so you should only collect as much as you need for your plants.
By now, you're probably wondering how exactly this magic elixir is going to help your plants grow. The great thing about rice water is that there isn't just one magical ingredient. It's a combination of many different nutrients and minerals that work together to create powerful plant food.
Nutrient Content in Rice Water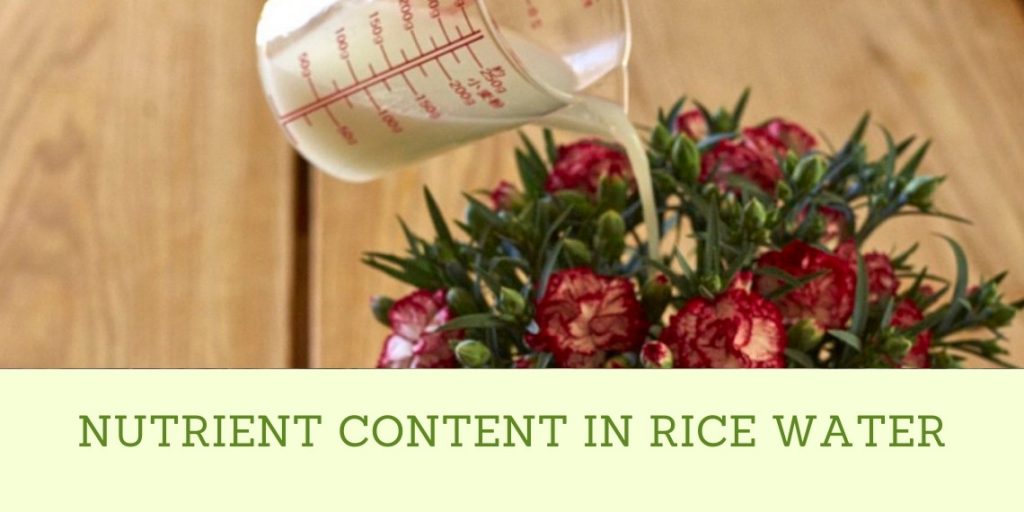 Here are some nutrients present in rice water that helps plants grow:
Nitrogen
It contains nitrogen—the same nitrogen that can be found in synthetic fertilizers but without all of the harmful chemicals. Nitrogen promotes healthy foliage growth and encourages your plants to grow vibrant, lush leaves.
Calcium
Calcium is another nutrient that plants need in order to remain healthy and strong. Rice water contains an abundance of calcium which will help your plants develop thicker cell walls and become more resilient against insects and disease.
Phosphorus
Phosphorus is the final ingredient that rice water contains—and it's just as important as the other two. Phosphorus encourages your plants to become stronger and helps their roots grow deep into the ground so that they can absorb more nutrients.
Rice water also works as a natural fungicide because it contains trace elements of copper and sulfur. It has even been scientifically proven that when rice water is mixed with some additional nutrients, it becomes even more effective at repelling bugs.
Benefits of Rice Water for Plants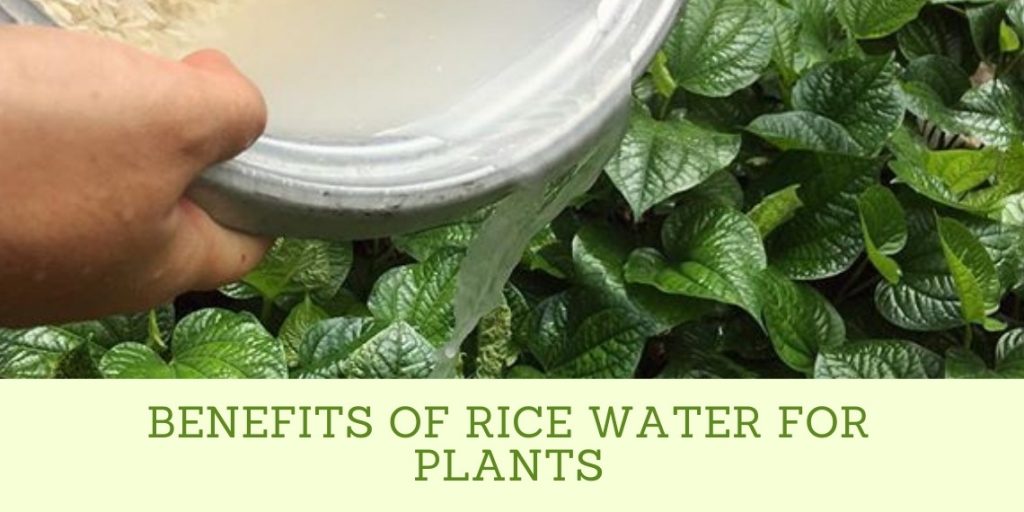 Rice water is a great homemade plant fertilizer. It is full of nutrients that are essential for plant growth, and it's easy to make and use. You just have to boil rice in water, then strain the water and use it to water your plants.
Rice water is a great way to give your plants a boost, and it's also environmentally friendly.
Rice water contains nutrients required for healthy plant growth.
Plants need certain nutrients to grow and thrive. Some essential ingredients they need are nitrogen, phosphorus and potassium, as well as many other minor and trace elements.
These compounds can be found in most fertilizers. However, using organic rice water is a great alternative since it contains all of these nutrients and more.
Rice water contains trace and minor elements.
When rice is boiled, the minerals found in it dissolve and become a part of the water. It turns out that rice contains many important nutrients for plants – such as calcium, iron, potassium and zinc – even though these are not major components of fertilizer (nitrogen, phosphorus and potassium are, as mentioned above.)
Rice water also has a high pH level and low salinity.
The pH level in rice water is usually between 6 and 7, which is just about right for cultivating plants. This means that it won't make the soil too acidic or alkaline. While the salinity of rice water from boiling rice isn't nearly as high as seawater, it's still too salty for plants and should not be used on salt-sensitive vegetables like beans or peas.
Rice water contains protective substances that help to protect plants from disease and pests.
There are several other ingredients in rice water that make it an extremely effective organic plant tonic.
Amino acids such as alanine and glutamic acid, as well as sugars such as raffinose, stachyose and verbascose, have been found to increase plants' resistance to disease. These substances are found in rice water because they dissolve from ground rice when it is boiled.
Rice bran is an effective natural pesticide.
Ground rice is also an effective natural pesticide. Studies have shown that it contains antifeedant and repellent compounds, which keep insects like aphids away from plants.
The rice bran contains high levels of these compounds, so sprinkling ground rice around the base of plants can be used as a pest control method.
Rice water sprays as a natural pesticide substitute.
As you can see, rice water contains many important nutrients for plants, as well as compounds that help to protect them from pests and diseases. So next time you cook rice, don't pour the water away – remember that it makes a great tonic for your plants too.
How to Use Rice Water for Plants
Rice water is very easy to use on your plants. Simply spray it directly onto the leaves of your plant after you've watered them with it. There's no need to collect freshwater or mix it with anything else.
Make sure that you use clean rice water. There might be a small amount of salt in the water if it was salted when you cooked your rice. If you're worried about using too much salt, just dilute with regular water until the salt content is no longer an issue.
It's also important to remember that you should never use rice water straight from the pot. It will contain too many minerals and salts. Make sure to boil your rice, drain it and collect the water before using it on your plants.
Rice water is a very effective way of fertilizing your plants without polluting their environment with harmful chemicals or harming them with salt or fertilizer burn. It's completely safe to use on any type of plant and is an all-natural way to make your plants grow faster become more resilient against diseases, insects and harsh climates.
Rice water can even be used as a natural insecticide because it contains ingredients found in most bug repellents without harmful chemicals.
Using Rice Water to Fertilize Plants
You can use the same method to fertilize plants with rice water as you would use to fertilize plants using regular water. Just be sure not to use too much. Depending on the type of plant, pour between 1/4 – ½ cup of boiled rice water around the base of each plant.
Using Rice Water as A Pesticide Against Insects and Slugs
Rice water is also excellent for controlling insects and slugs! To use rice water as a pesticide, simply pour it around the base of plants that are vulnerable to these pests (such as members of the cucurbit family, which includes melons, squashes, gourds, pumpkins and zucchini).
The Bottom Line
Rice water has been used for centuries as a natural ingredient in fertilizers and insect repellents—now you know what to do with the water that's leftover after you cook your rice. Next time, don't throw away your rice water because it can help your plants thrive!