Asparagus can be grown hydroponically. Hydroponics is a great way to produce food with very little space, and it's a perfect option for those who want to grow their own asparagus.
In this article, we'll discuss the guidelines on how to grow hydroponic asparagus to plant and harvest your crop.
Growing asparagus hydroponically is a great way to have your own nutritious food, even in small spaces. Asparagus can be grown both outdoors and indoors with the help of hydroponics.
What You Need to Know about Asparagus
Asparagus is a favorite vegetable in many homes and restaurants, but traditional asparagus farming has some disadvantages. So, farmers started turning to hydroponic greenhouse growing practices, which can provide higher yields at a faster rate.
Now the demand for hydroponically grown asparagus has skyrocketed.
Hydroponic asparagus is grown in water instead of soil, and it has a longer shelf life than traditional asparagus. It also has a higher yield than traditional farming, making it a more efficient way to grow this popular vegetable.
Guidelines on How to Grow Asparagus Hydroponically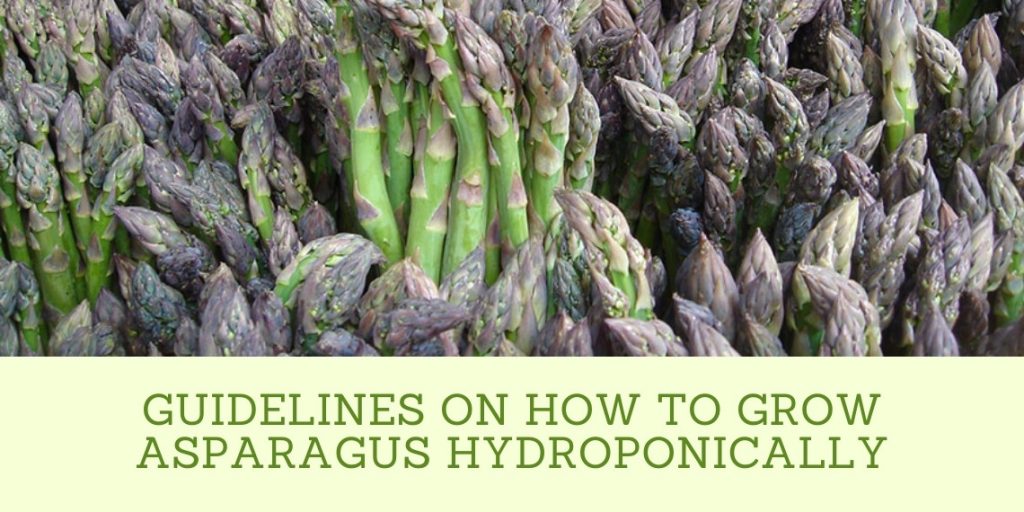 The hydroponic method is surprisingly easy and produces a crop with better flavor for months on end. Here are our guidelines for growing asparagus hydroponically that will have you reaping delicious asparagus in no time at all.
Propagate your Asparagus
There are two ways to propagate asparagus: by seeds or by crowns.
Propagating from Seeds
If you want to propagate asparagus from seeds, it is a time-consuming process that requires a lot of patience. It can take up to one whole year for the seeds to germinate and begin to grow, and it will be several more months until they are ready to be harvested.
Asparagus can be a challenging vegetable to grow, but the good news is once it reaches the crown stage, it will grow continually for over a decade.
Crowns are the part of the asparagus plant that stores food and energy. So, they need to be kept healthy if you want a productive asparagus bed. You need to make sure to water your crowns regularly, especially during hot weather, and feed them a balanced fertilizer every few weeks.
The asparagus seeds can take around 10-15 days to germinate. The optimum temperature for germination is between 71- and 79-degrees Fahrenheit. Keep in mind that it is essential to keep the soil moist, but not wet, during the germination process.
To ensure that your asparagus plants grow optimally, it's important to keep the temperature in your hydroponic system consistent. Make sure to steer clear of lower temperatures as there's a high chance this can slow down their growth process.
When you notice the seeds germinating about 3 to 5 inches and see some of their root growth, you can go ahead and transfer them into your hydroponic setup. Make sure to take into account the size of your system when transferring so that the plants have enough space to grow.
As they start developing in your setup, you can provide them warm temperatures of up to 75-86 degrees Fahrenheit. This will help the seeds to grow faster and produce a higher yield.
Simply make sure to keep an eye on the pH levels and nutrient levels so that they are in the correct range for your plants. As the plant starts maturing, you can also introduce them to light gradually.
Propagating by Crowns
Propagating asparagus by crowns will give you a quicker result in comparison to germinating seeds. When planting crowns, you are essentially planting a mature plant.
The crowns should be planted in well-drained soil, and a light mulch will help keep the moisture in. You can either plant the crowns directly in the ground, or you can plant them in containers.
You can buy asparagus crowns from a nursery store or garden center. The crown is the most crucial part of the plant, so make sure to get a healthy one. When you purchase crowns, they will likely come with a root system and a central fleshy crown.
However, you should keep in mind that the crown and root system are both grown in the field/soil. Hence, they may carry soil-borne diseases in your hydroponic garden.
Therefore, you must be very careful when propagating asparagus plants by crowns grown from the soil into your system. You can minimize the potential for disease introduction by dipping the crowns in a fungicide or sanitizing solution before planting them in your hydroponic system.
Hydroponic Setup You Can Use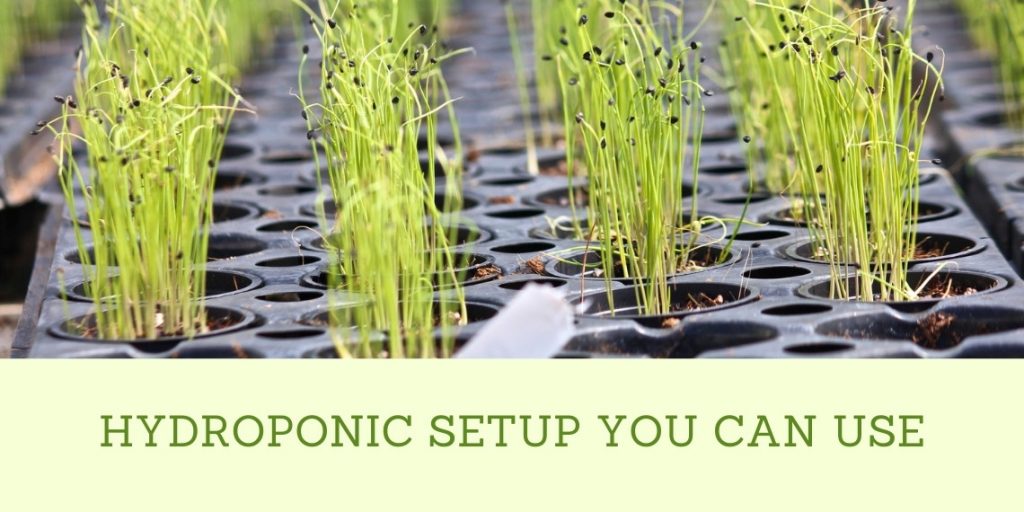 There are a variety of hydroponic setups you can use. That said, we highly recommend using a Kratky system, Dutch bucket system, or deep-water culture for raising your hydroponic asparagus plants.
Each of these hydroponic setups is discussed along with an example.
Deep-Water Culture
To create a deep-water culture, you will need a container that holds about 3 gallons of water. Fill this container halfway with nutrient solution and place the asparagus crowns into the solution so that they are not touching each other. Use the light cycle that the plant requires for lighting and lower it to about 12 inches above the leaves or crowns.
Kratky System
For the Kratky system, you need to use a tray with many shallow holes in it (this can be a homemade setup or an actual system). Fill each hole with a nutrient solution. A plastic sheet placed over the tray will do if you are growing indoors during the winter months when natural light is less abundant. Sink your asparagus crowns into the holes so that the tips of the crowns are just touching the nutrient solution.
Dutch Bucket System
To use a Dutch bucket system, fill an opaque plastic 5-gallon bucket with nutrient solution. The nutrient levels should be about an inch below the holes on top of the bucket lid. Submerge the asparagus crowns into the solution until they are touching.
Choosing Nutrient Solution to Grow Hydroponic Asparagus
Hydroponic asparagus growers should make use of a perfectly-balanced nutrient solution that is suited for its vegetative stage. You need to make use of it for the entirety of its active growing stage. This will provide optimal growth and yield production in your garden.
Keep in mind that the first time you use your hydroponic system, don't try to grow too many asparagus plants. Try growing just one to test everything out.
Once you are confident that the system works for your plant, then you can grow more. Growing too many at once will lead to an unbalanced nutrient level and possible damage to the roots of the asparagus.
As mentioned above, there are three different hydroponic setups you can use for your asparagus plants. Each system has different nutrient requirements. So, it is important that you are familiar with how to maintain the nutrient level in each of your hydroponic systems.
It is best to check on the pH levels, phosphorous, and potassium levels of your nutrient solution every two weeks after you have established your plants.
Lighting Requirements for Asparagus
As with all plants that are being grown hydroponically, it is important that they receive the right light cycle. This means that you will need to simulate several different day lengths over the course of a week.
When growing asparagus indoors, you should be using 12 hours of light followed by 12 hours of dark each day. You may also want to try growing your plants under LED lights for this purpose.
Harvesting Stage
Now for the most anticipated phase of all: Harvesting. You can start harvesting your asparagus the first year after you plant it.
Harvesting the plant in sections will allow you to preserve its nutrients for an extended period of time. It's important not to do this all at once, but rather over two weeks and then stop until the following harvest cycle begins again.
You can give your spears a chance to unfold and develop strong roots by planting them this way. It will also stimulate these plants in conserving energy needed for yielding plenty of spears the following season.
You can extend your harvesting time to three weeks in the next harvest period and stop until the following season. When the spear is 5-inch to 7-inch long, you can harvest it. To do so, just use sharp tools or snap off its base with one quick movement of your hand.
Harvesting too late will result in a tough, fibrous spear which can make it harder for you to prepare and eat them after cooking.
The Bottom Line
Planting asparagus in your garden is the traditional way to grow this vegetable. However, many people are opting for hydroponic growing techniques because of their efficiency and affordability.
A hydroponic asparagus production is a viable option for small-scale farmers looking to add value to their farms. By using hydroponics, you can produce a high-quality product with limited inputs.
We hope this guide has helped you learn how to do so. We discussed the guidelines to grow your asparagus hydroponically, which nutrients work best, and other helpful tips that will help get your harvest off to a successful start.