Fungus gnats are a common pest that can be found in hydroponic grow systems, soil-less media, and even garden soil. They're not harmful to humans, but they can wreak havoc on your plants by feeding on the roots of your plant.
Let's explore what you need to know about fungus gnats and how to remove them from your system.
What are Fungus Gnats?
Fungus gnats are a common type of fly, also known as the soil gnat. Adult fungus gnats have long legs and antennae and a dark body with a single pair of wings.
A fungus gnat has one large eye that tends to stand out from the rest of its head. Larvae are small worm-like creatures with shiny black heads. They only grow to 1/4 inch, but it's their numbers that make them seem bigger than they are.
The larvae can be seen crawling on the soil surface or through the light film of algae that grows on the water's surface in hydroponic systems.
Adults lay eggs in moist organic matter both indoors and outdoors. Indoors, this can be potted plants in a house or garden. Outdoors, fungus gnats lay eggs in damp areas where the soil has a high organic content, such as landscape mulch near your home.
Fungus gnat adults feed on nectar from flowers and other sweet liquids that collect on surfaces that the adult flies can access. They aren't interested in plants at all, so fungus gnat damage to houseplants is minimal.
Fungus gnats will breed inside the root zone of plants, such as begonias and African violets. Larvae fed on tender root hairs and weakened plants may show signs of drooping foliage.
However, the most damage is caused by adults. These flies can be annoying when they are in large numbers. This is because they will fly up out of the soil every time you walk near the plant, or even if your shadow falls on it.
Different Methods to Kill Fungus Gnats in Hydroponics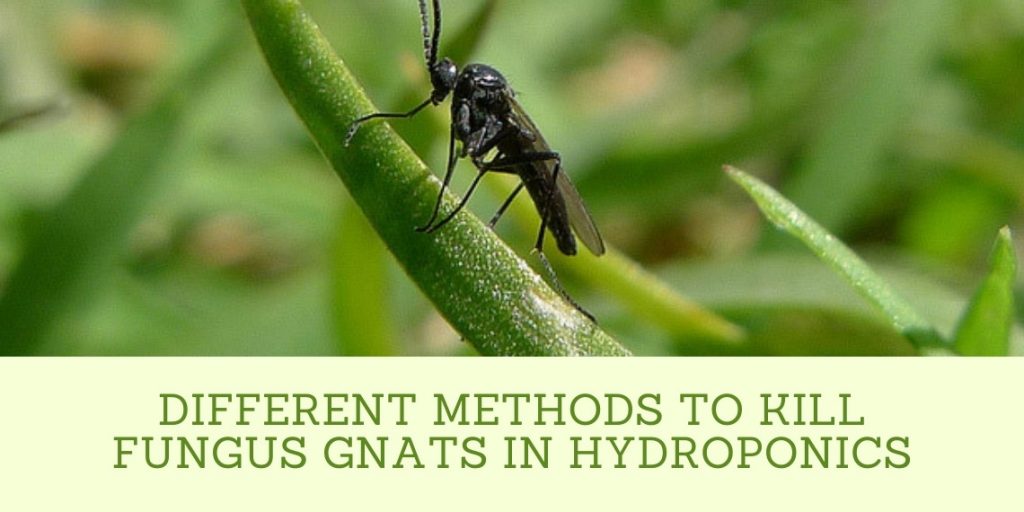 In hydroponics, fungus gnats can quickly become a nuisance and even a danger to your plants. These tiny flies can lay their eggs in the growing medium, which will hatch into larvae that feed on the roots of your plants, often leading to root damage or even plant death.
Here are a few methods you can use to kill fungus gnats in hydroponics:
Biological Methods
Hydrogen Peroxide: This is a cheap and easy method. Simply dilute 3 percent of hydrogen peroxide and add it to your reservoir, and it will kill fungus gnats' larvae in the growing medium.
It's important to note that this only works on hydroponics systems where the roots are exposed to air (i.e., no coco coir.) So, you should keep an eye out for any larvae or their maggots in your growing medium.
Commercial Products: There are many commercial products available for fungus gnat control. General hydroponics and other organic gardening stores sell insecticidal soap and neem oil.
They can both be effective against fungus gnats. Some gardeners also recommend using tobacco juice as a fungicide.
Natural Methods
Traps: You can use yellow sticky traps to attract and catch the fungus gnats. The traps can be placed near the plants or in the grow room itself.
Vinegar: The acetic acid in the vinegar will kill adult fungus gnats on contact. Fill a spray bottle with white vinegar, and spray the adults directly. When they die, you can simply wipe them off the plants.
Ways to Prevent Fungus Gnats in Hydroponics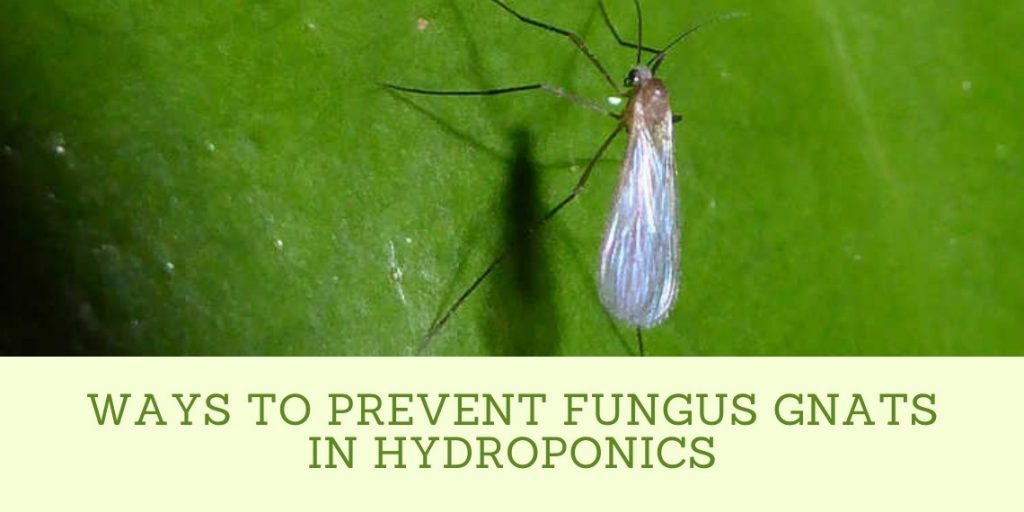 Fungus gnats can be a nuisance in hydroponics. They can damage plants and roots, and they can be difficult to get rid of. But there are ways to prevent them from taking hold in the first place.
Double-check all new plants before introducing them to your hydroponic system. Fungus gnats like to hide in the soil of new plants, and if you add them without checking, they'll wreak havoc.
Close all the doors and windows in your setup. Fungus gnats are attracted to light, which means that the more closed doors and windows there are, the less likely fungus gnats will get in. Make sure to seal off any cracks or other openings, as fungus gnats can hide in these places.
Let the upper part of your plant dry out before watering it again. This will kill any eggs that may be on the plant and will also help to prevent the adults from breeding.
Remove all fungus gnat food sources. This includes removing any dead leaves or plants from the grow area and cleaning up any spilled soil or water. You should also make sure that the grow area is well ventilated so that the moisture level is kept to a minimum.
In Conclusion
In this article, we've outlined how to kill fungus gnats in hydroponics. We've also discussed how to prevent fungus gnats in your garden or grow room. Applying the steps we've outlined should help you get rid of these pesky tiny flies and improve your indoor gardening experience.