Hydroponic lettuce needs sufficient light to grow, but there are a few different things you need to take into account when it comes to lighting. Light is a key factor to consider when growing any type of lettuce. So, it's essential that you know what you're getting into before planting your seeds.
In this article, we will discuss everything you need to know about hydroponic lettuce light requirements, from the types of lights that work best to how much light is needed for optimal growth.
Light Requirements for Growing Lettuce Hydroponically
Lettuce is a plant that can be grown hydroponically with little care. However, like all plants, it still requires certain requirements for its growing environment. Light, in this case, is one of the most important factors needed to ensure successful lettuce growth.
So, let's explore more about the light requirements for growing some lettuce indoors.
Required Light Duration
Lettuce is a very low-light demand plant. The plant grown in a hydroponic environment does not require daily exposure to direct sunlight, just around 10-12 hours of light per day.
This average period of light is recommended in order to provide enough energy for photosynthesis. That said, it can vary depending on what type of lettuce you are growing.
Keep in mind that lettuce cannot withstand full sun. When exposed to this intense sunlight, the plant will go through its flowering or bolt phase and become bitter. Therefore, it's best not to plant them near a windowsill or outdoors.
Temperature and Humidity Requirement
Hydroponic lettuce needs a specific temperature range to grow properly. If the temperature is not within that range, the lettuce will either not grow, or it will be smaller and less flavorful than if it was grown in the correct environment.
The ideal temperature is between 68°F and 77°F, with a humidity of around 60%. If the temperature is too high or too low, it can lead to a variety of problems.
For example, if the lettuce roots are exposed to temperatures below 59°F, the plant will lose its ability to take in water and nutrients through its root system.
Lettuce also has a high transplanting mortality rate when exposed to cold temperatures. When the temperature is too high, it can also have negative effects on the lettuce.
If the crop is exposed to too much heat, especially over 77°F, it will evoke a condition known as "bolting." Bolting causes lettuce to go from being a leafy green to a flowering plant that is close to being bitter.
If the humidity is too low, there will be an insufficient amount of water around the lettuce roots, and it can lead to dehydration. With insufficient moisture, the lettuce's leaves may curl inwards in order to protect themselves from hot or cold air.
When hydroponic lettuce is exposed to high humidity, it will prevent the lettuce from developing a strong structure. The plant's roots may become stunted because they are unable to grow properly due to not having enough oxygen.
Since hydroponic lettuce requires specific temperature and humidity levels, it is important for people growing this crop in order to ensure they know how to take care of it.
Without proper temperature and humidity, the lettuce can be stunted or lead to bitterness in the plant. With the right conditions, hydroponic lettuce is able to grow into healthy plants that taste good.
Grow Lighting
Many growers opt for fluorescent grow light when it comes to growing lettuce in a hydroponic system. This type of light is relatively affordable and produces good results. Not only are they able to provide light for your hydroponic lettuce, but they also help improve the quality of the leaves.
You'll only want to make sure the bulbs you use are specifically designed for plants, as opposed to general-purpose bulbs.
Other Hydroponic Lettuce Growing Requirements
Here are some other requirements you will need to grow lettuce hydroponically:
pH Range: The ideal pH level for hydroponic lettuce is between 5.5 and 6.2. Some experts suggest dropping the pH to 5.7 during germination (the first three days), but this is not necessary for some systems or with some nutrient formulations.
Growing Media: Rockwool cubes are the most common growing media for hydroponic lettuce. They are inert and pH neutral. Rockwool is also sterile and has physical properties that make it well suited for small-scale hydroponics. Peat moss and coconut coir are a few other alternatives to Rockwool for hydroponic lettuce.
Nutrient Solutions: The nutrient solution for hydroponic lettuce needs to be well balanced and provide all the essential nutrients. You can test your nutrient solution with an EC or TDS meter.
Lettuce does not require a lot of nutrients, but the demand for nitrogen is quite high. You will need to provide about 100 ppm nitrogen during the vegetative stage and 150 ppm nitrogen during the flowering stage.
The N-P-K ratio in a nutrient solution should contain high nitrogen with a little bit of phosphorus and lesser potassium. Calcium is also extremely important for lettuce. It is an essential micronutrient required for cell wall formation, cell division and membrane transport processes.
Different Types of Low-Light Growing Hydroponic Lettuce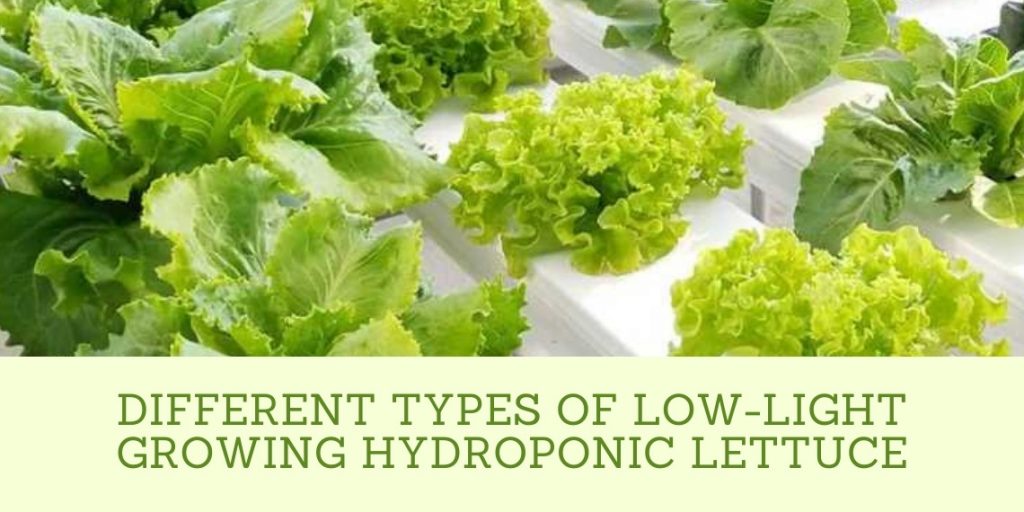 There are many different types of low-light growing hydroponic lettuce to suit your needs. Whether you're a beginner or an experienced hydroponics grower, there's always something new to learn when it comes to growing this type of lettuce.
Here are the different types of lettuces grown hydroponically:
Romaine Lettuce
One of the most popular types of lettuce among beginners interested in hydroponics is romaine lettuce. It's hardy, and its leaves are crisp, tasty, and nutritious.
There are many benefits to growing romaine in your home garden, including environmental friendliness since it requires less water than typical in-ground farms. Lettuce, in general, is high in fiber and antioxidants, but studies have shown that romaine lettuce, in particular, is a phenomenal source of Vitamin A.
Loose-leaf Lettuce
Loose-leaf lettuce is another great option for hydroponics growers, either beginner or experienced. It grows in a manner similar to most other leafy greens, with its roots growing laterally inside each of the plant's nodes.
However, unlike many common types of lettuce, loose-leaf lettuce does not have a central head. This makes it far less common in grocery stores but does make it easier to cultivate.
Generally speaking, loose-leaf lettuce is sturdier than romaine and can be harvested more quickly.
Butterhead Lettuce
Butterhead lettuce is a type of lettuce that has soft and buttery leaves. Its taste and texture make it popular in salads and sandwiches. They are of two types, i.e., Bibb lettuce and Boston lettuce.
Butterheads require less water than romaine. This makes them an excellent choice for anybody growing hydroponic lettuce in a cramped space or who wants to conserve water. This type of lettuce requires the same minimal amount of lighting as romaine.
Lettuce Growing Period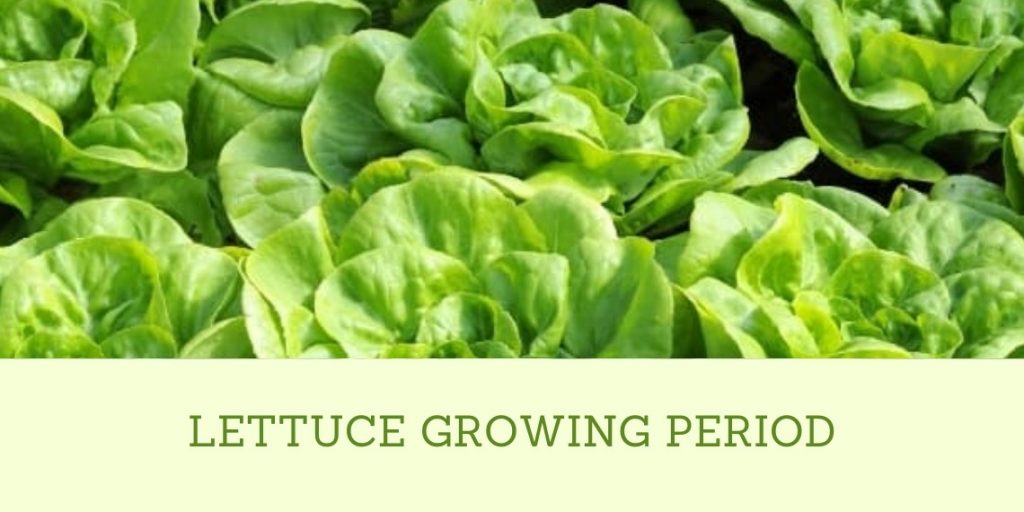 While it depends on the variety, the growing period for lettuce is typically 45-65 days. It usually takes around 3 weeks for the first leaf to appear and around 6 to 12 weeks for a full head harvest.
That said, the amount of time may vary according to various conditions such as temperature condition, lighting requirement, nutrition, etc. So, it is always a good idea to do some research on the specific types of lettuce you are growing and find out what the ideal light requirements are.
Lettuce can be grown in a variety of climates. However, as mentioned, it's important to pay attention to the light requirements so that you can produce a healthy crop. Lettuce is a fast-growing plant that will provide you with a great addition to any meal.
The Bottom Line
The hydroponic lettuce light requirements we've looked at in this article provide a good starting point for growers. However, it's important to keep in mind that each crop will have its own specific needs.
As you experiment with different crops and light setups, be sure to take notes on what works and what doesn't. This way, you can improve your yields in the future.
As a final note, indoor hydroponic lettuce production is much easier than you might imagine. With the right setup, growing hydroponically can produce a fresh supply of lettuces on a daily basis for anyone with some spare space and time on their hands.
So, give it a shot – we know you'll love having a steady supply of crisp, delicious hydroponic lettuces for your salads.