Have you ever wondered if it is possible to transplant your hydroponic plants from water-based nutrient solutions into soil? The answer, as long-standing gardeners know all too well, is yes. And we're here with step-by-step instructions on how to do just that successfully. Therefore, keep on reading!
Transplanting a hydroponic into the dirt is not an as straightforward process, but with some fundamental knowledge and skill, it can be made easy. You have to follow certain procedures for your plant's smooth transitioning so that they don't go into shock.
The right way will allow you to achieve better performing plants that are healthier in the end.
How to Transplant Hydroponic Plants to Soil?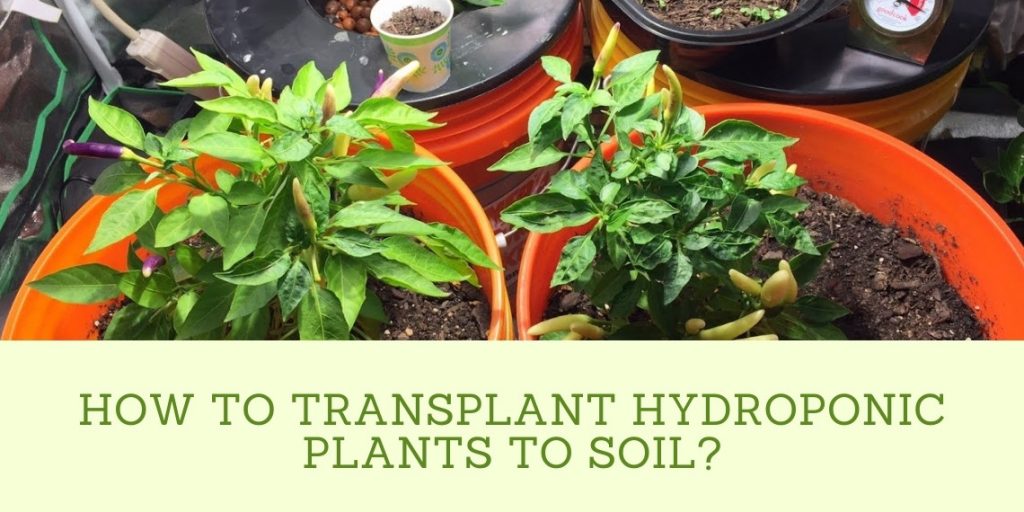 You can transplant your hydroponic plants into the soil from cuttings or seedlings. Rapid rooter plugs and small Rockwool starter plugs are also good for this process. Therefore, make sure you use one with each type of planting material to get optimal results.
When you are ready to transplant your hydroponic plant into the soil, first make sure that it is in a potting container. Once they have grown and mastered all of their changes from indoors to outdoors, then move on with transferring them out into your garden.
That said, it's important to be prepared when transplanting your hydroponic plants. You want the root system of a fragile seedling, in particular, to have as little trauma during this process, so you need all your materials and equipment set beforehand.
This way, they can thrive and grow easily in the soil as well. You will not have any trouble at all getting started right away with a firm root system. So, it will be easy for them to transition into life outside its cozy home inside an artificial environment.
One other thing you should do before transplanting your hydroponic garden is to let the water level in it drop and remain low for some days.
Furthermore, don't feed or put a direct LED light on any of your plants. But rather keep them close enough so they can search out this source naturally with their own natural instincts while still being able to enjoy plenty of warm sunshine.
Follow this procedure for one to two weeks. This way, the hydroponic plant will start adjusting and hardening off in preparation for their outdoor experience.
Below are the required materials for transplanting your plants into the soil:
A container or growing pot
Plants from your hydroponic setup
Water
Soil
Steps to Transplant Hydroponic Plants to Soil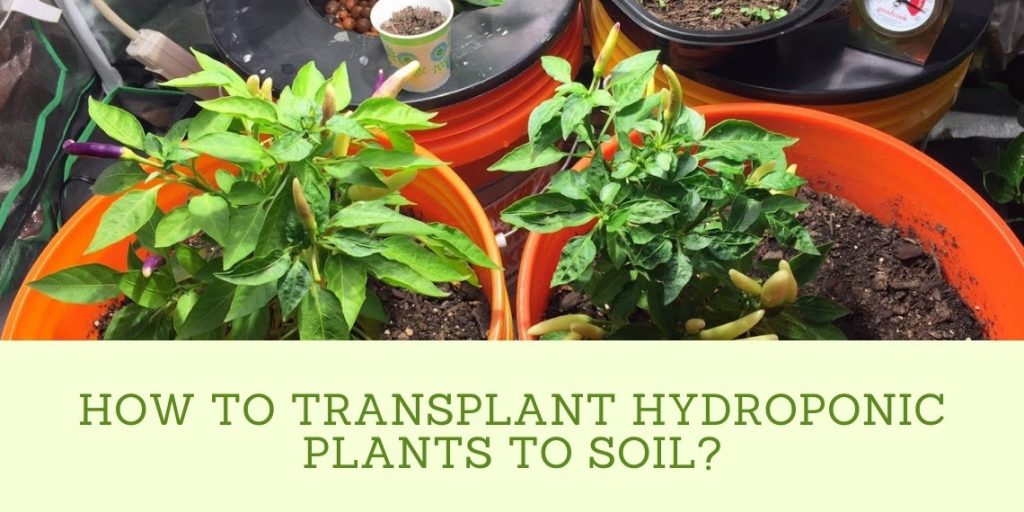 Step One
Be sure to get the right kind of pot for your plant. The best size is dependent on what you want it shaped into. However, if you are planting a large one-time generative stage, then make sure there's ample room with plenty of depth and width too.
This is so that when roots start getting established, they can spread out without running into any obstacles or limitations like walls within their surface area potential boundaries.
Give your plant a space of about 4 to 6 inches deep, so it has enough room for growth. If they are crowded or stick together, gently separate them by breaking up their roots. Simply be careful since this may cause shock to your plant.
Step Two
Add your hydroponic plant to the pot. Make sure you use a growing medium with an added percentage of composted manure and perlite for good measure. Spread or dig up enough dirt so that when it's time, there will be enough support on all sides, including beneath where the roots are currently planted.
This way, everything should have plenty of space without being crowded too badly together- then carefully put them in their new home until next winter.
Step Three
Hydroponic plants need to be watered often and regularly. They grow best with plenty of moisture, so it is important that you keep the soil moist at all times. Don't forget about this crucial step, or your plant may die.
Step Four
The next step is to give them some duration of sunlight. They need time and exposure in order to go through a process of hardening. This will enable them last longer during outdoor temperatures than if they were kept indoors where there's constant heat or cold nearby.
Plant Shock
It's not uncommon for plants to experience some shock after they've been transplanted into an entirely new environment. Your hydroponic transplant is likely going through some recovery procedure as it goes into the shocking phase of life.
In the meantime, you can take a closer look at your plant to see if there are any other signs of trouble. You may notice that its leaves have started turning brown and dropping off, or they might be withered altogether. This means it is experiencing stress.
If so, then don't worry because all plants go through these phases during their growth cycle as they recover from the shock after being exposed to too much sunlight (or whatever caused them harm).
Just make sure not to allow soil from drying out more than usual since roots need moisture throughout the summer months in order for healthy development. When you finally feel confident that your plants are fully resilient, you can place them outdoors.