It is crucial that you get the right hydroponic drip system watering schedule for your garden. The reason is that if it's not set up right, it can be really detrimental to them.
We will, therefore, guide you on how to set up a well-structured daily water regimen for your hydroponics in order to see healthy roots and produce top-quality fruits/vegetables with as little effort as possible.
A hydroponics drip system is an efficient way to make sure that your plants receive proper care and attention. It functions in much of a similar manner as a traditional irrigation method.
However, it uses nutrient solutions made from chemicals and water instead of dirt or sand to deliver nutrients through plants' roots directly into their stems at just about any desired time throughout the day.
If set up correctly, they are simple enough for even novice gardeners who do not have experience setting up anything more complicated than their own backyard hose pipe.
Types of Hydroponic Drip Systems
It is important to know the difference between various types of drip systems and which one is right for you. There are two types:
Recirculating/recovery drip system
Non-recirculating/non-recovery drip system
Recirculating/Recovery Drip System
This drip system uses only little technology, unlike other drip systems. The dissolved nutrient solutions are recycled back into the recovery system for reuse. This is an eco-friendly way to help your plants grow more efficiently because they are being fed with nutrients that have already been used once before.
That said, the constant testing and monitoring of solutions ensure that everything is in check. This includes the pH range, which needs to remain within limits so nutrients can be recycled properly from one step.
This is so that your garden's growth cycle does not suffer any setbacks due to an improper balance between what it takes up vs. gives out (nutrients).
Non-Recirculating/Non-Recovery Drip System
Just as the name suggests, the nutrient solution is not recoverable. It is essential that you allow them time to drain off before replenishing and refilling your reservoir with clean and fresh nutrients solution periodically. This will ensure that your plants' roots system stay healthy.
In addition to that, you need a precise and accurate timer for your non-recovery drip system in order to ensure that the plant is getting just enough nutrients. With this type of timing, you gain maximum control over what is going into each potted plant.
Watering Schedule of Hydroponic Drip System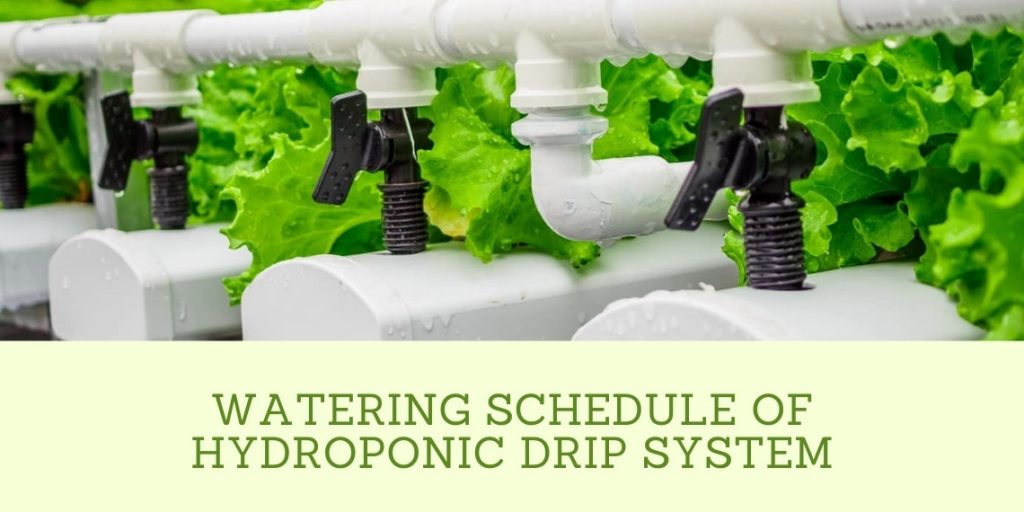 It is easy to get the wrong balance when you set up a drip watering system. You might even have to try different trial processes before getting it just right.
If your plants get nutrient-filled water in excess, they will eventually drown from excess volume. Furthermore, supplying them insufficient amounts will cause both nutritional and water deficiency as well as resource exhaustion over time.
To begin, you should carefully monitor your hydroponics drip system for a few days. By doing so, it will be easier to determine when the water level reaches its ideal stage. Then, you can make adjustments accordingly without wasting any resources or losing nutrients in your crop's overall growth cycle.
You will need to make sure the hydroponic drip time on your system is set about two or three times every day. It will depend on how long it takes in order to fill the growing medium with no wasted liquid.
Additionally, it is important to know that as your plant continues growing, the watering schedule is most likely to fluctuate. This means you will require additional nutrient-filled solutions for older plants and less water or even none at all when it comes time for younger ones.
Other factors that may influence how often you need to water your plants include changes in temperature and humidity. To ensure the best possible outcome for your plants, it is important that you monitor and adjust their watering schedule accordingly.
For instance, changes in weather such as a rise in humidity or dryness during the summer season will require adjustments for watering.
Materials Required to Set Up Hydroponics Drip System
You will find various different hydroponic kits in the market these days. That said, if you want to set up your own hydroponics drip system instead, you will need to materials mentioned below:
Drip emitter
Growing container
Growing medium such as Rockwool, coco coir, etc., to support your plant
Timer for your pump
pH tester
Nutrient solution reservoir
Irrigation tube or fitting
Submersible pump
Steps to Set Up Hydroponic Drip System
Adhere to the steps below to build your own hydroponic system:
Step 1: The first thing you should do when setting up your own hydroponic system is to put the pump into the reservoir. Following that, fix the tubes and drip pipe.
Step 2: Next, fill your growing medium into the growing container and put in place your plant. Then, make sure you are focusing the drip emitter right into its roots to help guide water flow through them efficiently.
Step 3: Place the container a few inches above your reservoir so that with the help of gravity, water can flow well. Doing so, any excess water will run off quickly and recover into your reservoir for further processing in the re-circulating or recovery drip system.
Step 4: For the non-circulating system, the excess water will run off elsewhere. You just need a power source, i.e., an electric pump, connected to a timer in order for you to control the nutrient solution.
Step 5: Keep an eye on your drip system for a few days after setting your timer to make sure there are no adjustments needed.