Hydroponics is a method of growing plants in a soilless medium to support plant roots' growth and uptake of nutrients. The two main types are deep water culture (DWC) and nutrient film technique (NFT). In NFT, plastic tubing can be used to replace traditional rows of planting areas to create continuous channels. In both of these methods, plants are suspended above the rooting medium, and a continuous flow of nutrient solution bathes their roots to provide them with water, minerals and nutrients. Plastic materials can be used in hydroponics for this purpose because they have been designed to be food-safe plastics and do not contain BPAs (in most cases).
Why is it important to use safe plastics for hydroponics?
The use of safe plastics is essential for hydroponics. The reason for this is that they are the only material that will not leech harmful chemicals into your plants, which can be detrimental to their growth and overall health. Plastics also provide an airtight seal on your containers, preventing water from evaporating or getting contaminated by outside sources like dust or pests. This will ultimately save you money in the long run since you won't need to replace these items as often!
The most important thing to remember when it comes to choosing a type of plastic for your hydroponics needs is that there are many different types out there, each with its own set of pros and cons. Some work better than others in certain situations, so it's important to keep your needs in mind before making a decision.
How does the type of plastic affect how well it works for a specific plant?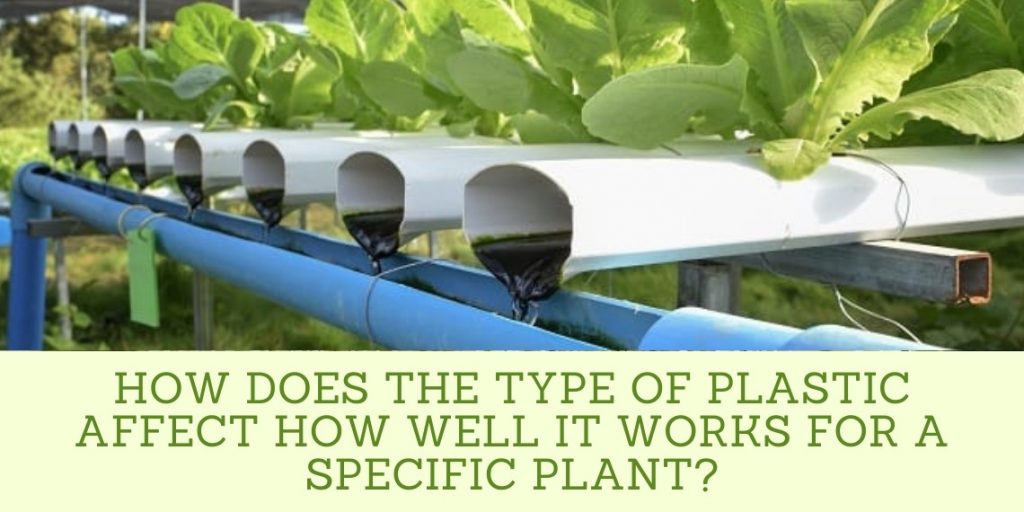 The type of shell (or coating) on a plastic determines how well it will hold up to the specific task, which in this case is whether the roots of a plant can actually break through it and if it is food safe. There are many different types of plastics that are used for hydroponics, the four most common being PVC, HDPE, LDPE and PP. For large-scale applications, PVC and HDPE work best because of their strength and effectiveness in keeping the roots hydrated. LDPE is used more for single-plant containers or for cuttings that will not be flowering or fruiting yet. PP is good for seedlings only. These are just five examples – there are many different types of plastics that are used for hydroponics. The best way to determine the type of plastic material that will work best for you is simply to ask a reputable hydroponics supplier.
The difference between PVC, HDPE, LDPE, PP, PETG and other types of plastics
In general, plastics can be labeled as either polyethylene (PE) or polypropylene (PP), but there are other types as well. The main difference between them is how thick they are, the density, and whether they are single- or multi-layered. There are also different variations of plastic resins for specific applications. The most common types of plastics used in hydroponics are:
PVC (polyvinyl chloride) is hard, rigid, and white. It can be very strong but is usually brittle with a low melting point. It's not totally food-safe and is typically found in regular water bottles, plumbing tubes, cable insulation, plastic sheeting, etc.
HDPE (high-density polyethylene) is a strong plastic that is more flexible than PVC and has a higher melting temperature that makes it suitable for hot or cold liquids. It is usually opaque and white in color. Some types of HDPE are not food-safe but can be recycled with other plastics, making it a very cheap choice for hydroponics.
LDPE (low-density polyethylene) is a softer plastic that has a low melting temperature. It's very flexible and transparent to light or opaque. It is found in squeezable bottles, some moisture-proof food wraps and heavy-duty bags (materials such as this are usually labeled with a recycling code of 4 or 5).
PP (polypropylene) is very strong but not transparent to light – it's usually opaque white or cream-colored. It has a high melting temperature, so it can be used in hot and cold liquids. It is not a good choice for hydroponics because of its food safety issues but is found in medicine bottles, yogurt containers, etc.
PETG (polyethylene terephthalate glycol-modified) is more rigid and transparent to light. It can be very strong but is also brittle. It's typically found in plastic bottles for water, shampoo, etc., because of its good chemical resistance properties.
Which is best for your plants – what to look out for when choosing which plastic to use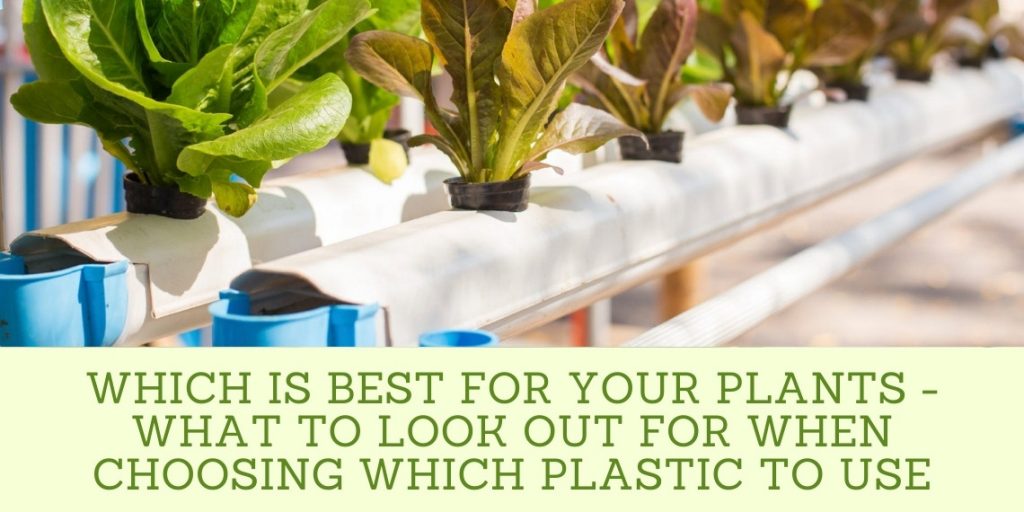 Depending on your application, you can use any of the above five plastics in hydroponics with varying degrees of success. It's best to choose a plastic that is specifically designed for food contact (i.e., PP) if you plan to be growing fruits and vegetables that will come into direct contact with the plastic/water solution or if you are growing hydroponic lettuce. LDPE is a good choice for single-plant containers or cuttings that's easy to work with and recycle. PVC works best for large-scale applications that meet FDA requirements. HDPE is usually your best choice for hydroponics because it resists the effects of temperature changes on nutrients, mildew and algae. It is food-safe but requires thorough cleaning to remove any residue.
If you're just starting out with hydroponics and aren't ready to commit to a medium- or large-scale system yet, using recycled containers with different types of plastics is an option.
What are the dangers of using unsafe plastics for hydroponics?
When it comes to hydroponics, there are a lot of different ways to go about it. You can use soil, coco coir, or even water as the growing medium for your plants. But one of the most important decisions you'll make when setting up your hydroponic system is what kind of plastics to use.
People assume that any type of plastics can be used in hydroponics, but this is actually not the case. There are certain types of plastics that, for one reason or another, you should avoid using if it's possible to do so. Unfortunately, many people don't learn about the risks until they've already purchased some of these risky plastics.
Here are a few reasons why you should avoid using unsafe plastics in your hydroponics system:
Some plastics contain toxins that can bleed into the water and come into contact with plants. If this happens, it could damage or even kill the plants
The leaching of chemicals from some types of plastics is particularly dangerous to humans who get their water from the same sources
Some plastics can be so unstable that even exposure to air can cause them to break down and release chemicals
The list of unsafe plastics goes on and on. And in fact, some types of plastic will be safe in one application but not another. So it's best to avoid all types of risky plastics entirely when possible.
The biggest problem with this is that there are a lot of types of plastics out there, and it's hard to know which are risky. That's why you need to make sure you understand what sort of chemicals might be present in the plastics you use for your hydroponics system. If you can't find any information on what chemicals might be present, the safest bet is to choose a safer option.
Conclusion
A lot of people don't think about what kind of plastics to use when it comes to hydroponics, but this is actually an important decision. Some types are safe for the environment, while others can be toxic or unstable. The safest bet is to avoid all risky plastics entirely if possible and choose a safer option that meets FDA requirements (i.e., PVC). If you're just starting out with hydroponics, recycled containers may also work well since so many different materials are available today. Whatever type of plastic you end up choosing, make sure you know any potential risks associated with its use before deciding on your final product!