Root rot is a problem that will arise in your hydroponics system when the plant's roots are exposed to oxygen-depleted water for an excessive amount of time, which allows bacteria and fungi to grow out of control. This will result in the rotting of the plant's roots and cause many other problems, such as leaf yellowing and an overall decline in health due to a lack of nutrients. It is highly important to correct this issue as soon as possible in order to save your plant.
How to identify root rot in hydroponics systems?
The most obvious sign that you're dealing with root rot is when you see the roots of your plants turning black. If you see this, it usually means that there is a significant buildup of bacteria and fungi in the root zone of your hydroponics system, which will cause a decline in health. You can confirm whether or not you have root rot by using a soil test kit, which tests for the presence of unwanted bacteria and fungi. If a soil test kit comes back positive for either, you will need to seek treatment for root rot in your hydroponics system. Treating root rot in hydroponics is really just a matter of flushing out the system with clean, oxygenated water.
The most common causes of root rot in hydroponics systems?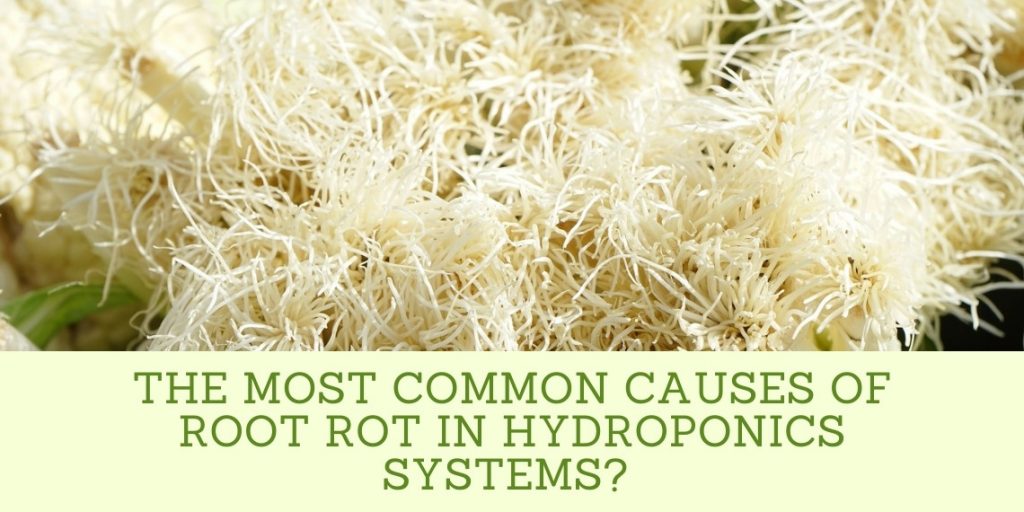 Root rot is primarily caused by bacteria and fungi that are able to thrive when water conditions become anaerobic (low in oxygen). It is most often caused by the following:
A buildup of plant material and other organic matter that has fallen into your water reservoir or root zone over time.
Using older hydroponics systems and equipment that doesn't provide adequate filtration can cause anaerobic conditions to occur more often than they should.
Not maintaining an appropriate balance between your system's nutrients, oxygen, pH, and water temperature.
Frequently changing the nutrient solution in hydroponics systems that use soil can also lead to root rot if not changed carefully or when used with older systems that don't provide adequate filtration.
Treatment for root rot in hydroponics systems?
There are several ways to prevent and treat root rot in plants. One important step is to avoid overwatering – especially if your plants are at risk for this disease. Soil that's too wet prevents oxygen from reaching plant roots, which will cause them to die – which will cause root rot.
You can also increase the amount of oxygen available to your plant's roots by adding perlite or coarse sand to your growing medium. Another option is to improve drainage by using fabric pots, pot feet, or drain holes. You might also try increasing the pH of your water and nutrient solution – a pH of up to 8.0 will prevent root rot from developing. This disease is often exacerbated by cold weather, so you might consider moving your plant indoors or covering it during winter.
If all else fails and your plants still show signs of root rot, then remove the infected soil and replace it with a fresh growing medium. Carefully wash off the roots before replanting them, and make sure that they're completely dry. If you can't save your plant, then remember to dispose of the affected soil responsibly.
How to prevent it from occurring in hydroponics systems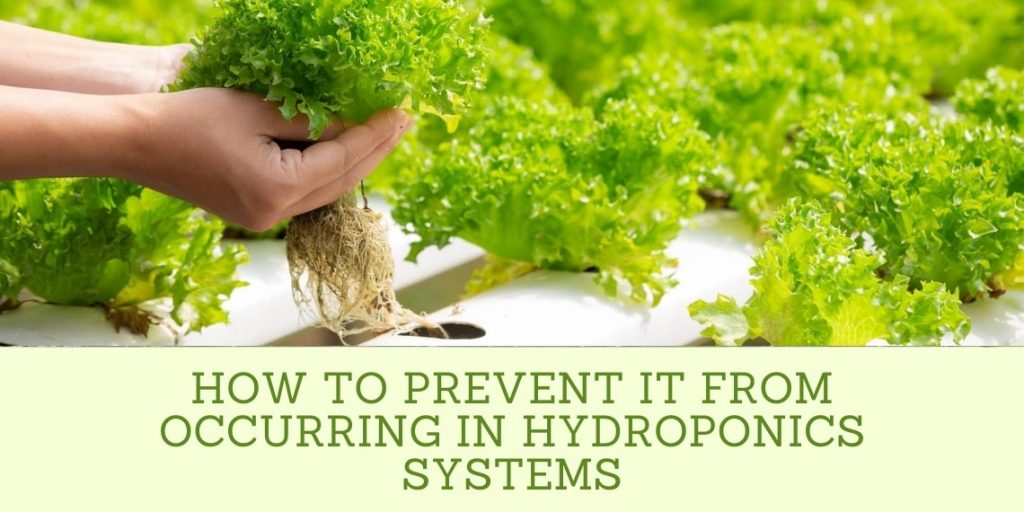 Hydroponically grown plants are also more vulnerable to root rot than traditionally grown ones because they don't have natural defenses against it as soil-grown plants do. That's why it's important to know how to prevent root rot from occurring in hydroponic systems so you can continue thriving with your own crops! Here are five ways you can get started right away…
1. Provide the necessary conditions to promote root growth
The most important thing to know about how to prevent root rot from occurring in hydroponic systems is that you should never allow water runoff to sit on top of your medium for more than an hour! This can cause massive amounts of fungi and bacteria buildup, which can then infect your plants' roots and hinder their health.
2. Use a well-ventilated system
Your hydroponics system should allow for plenty of airflows to maintain optimal carbon dioxide and oxygen levels inside your nutrient tank. If conditions grow stagnant, you may start seeing signs of root rot and other types of bacterial infections!
3. Make sure your pH levels are properly balanced
Hydroponic growers should take extra care to make sure their nutrient solution's pH is around 5.8-6.2 for optimal growth and conditions and use a pH kit to monitor it every other day. If you notice your plants wilting or leaves turning brown at the tips, this may be an indicator of root rot or nutrient deficiencies that need to be addressed immediately.
4. Keep your nutrients at the proper levels
This means not giving your plants more liquid nutrients than they can handle and making sure liquid runoff is properly removed from your system! Nutrient over-saturation occurs when root systems are unable to access the water around them because of high concentrations of dissolved salts in the solution. If you suspect your crops may be suffering from nutrient over-saturation, flush your system with fresh, pH-adjusted water and monitor their health for several days to see if they improve! 5. Keep enough space between plants
Hydroponically-grown plants tend to need less spacing than traditionally grown ones because the roots don't need to spread as far for nutrients. However, they still require ample headspace and open spaces throughout the indoor garden to encourage good airflow and prevent root rot from developing!