Gardening can be one of the most rewarding hobbies or professions. Growing plants and flowers is a great way to spend your time, with the added benefit of getting fresh produce for your table. But before you get started, you need to know how to germinate seeds.
Germinating seeds is the process of getting them ready for planting. You need to get rid of germination inhibitors, which can prevent or slow down the growth process. There are many substances that inhibit the growth of plants, and you need to remove them before planting your seeds. This article will teach you everything about using Rapid Rooter plugs to seed germination.
Rapid Rooter plugs are very popular with professional gardeners for two reasons. First of all, they are effective at removing germination inhibitors that may be present in the soil or on the seeds. Secondly, they help to ensure that your plants get enough water and nutrients throughout their lives.
What are Rapid Rooter Plugs?
Rapid Rooter plugs are one of the easiest and most convenient ways to germinate your seeds. They are made of biodegradable materials and help to stimulate root growth. Plus, they are easy to use and can be planted directly into the soil or into a growing medium.
These peat-based rooting devices come in a variety of shapes and sizes for different types of plants, allowing you to get the perfect fit for your needs. They are sterilized before packaging, so you don't have to worry about any diseases or other issues while using them.
While it can be difficult to germinate seeds without proper tools, Rapid Rooters make it easy. This is a great option for beginners who are looking for an easy way to get started growing their own herbs and vegetables.
The plugs can be inserted into any pot as deep as the plug is long, which means you don't need much space at all to use them. This is a great way to start your seeds or transplant delicate seedlings that might not survive traditional planting methods.
How To Use Rapid Rooter Plugs To Germinate Seeds for Hydroponics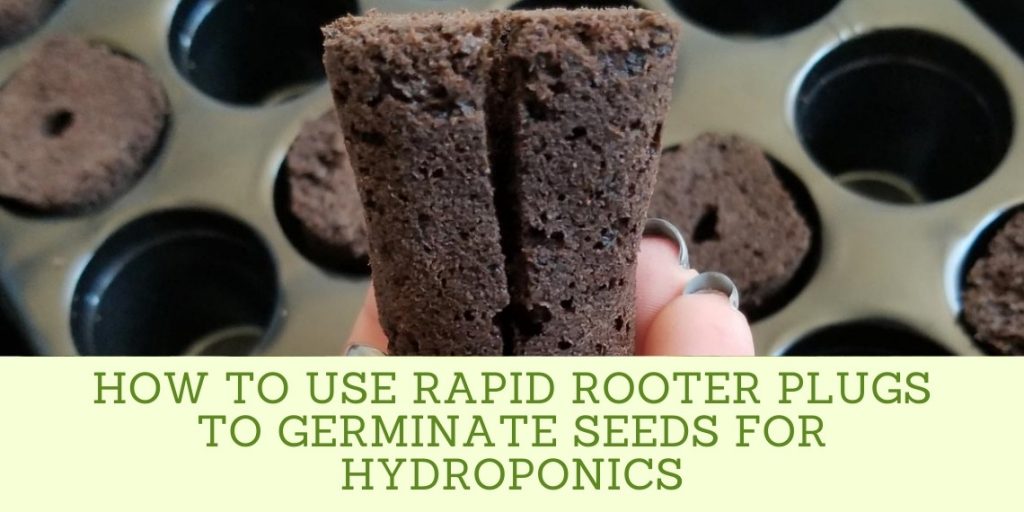 When you are using hydroponics to grow plants, one of the most important things that you need to do is make sure that the seeds germinate properly. Rapid rooter plugs are a great way to do this, and in this article, we will tell you how to use them.
You can use rapid rooter plugs for all types of seeds, but it's best to use them with bigger seeds. If you are using smaller seeds, there is a greater chance that you will have problems with them not germinating properly.
If the seed doesn't germinate properly, then your plants won't grow well or be as big as they should be.
Step 1: Soaking your Rapid Rooter Plugs
Soaking the Rapid Rooter Plugs overnight before planting your seeds will help them to germinate faster and produce healthy seedlings. This will help them to absorb moisture and prepare them for planting.
To get the best results from your rapid rooter, it's important to prepare properly beforehand. Before putting in its holes where seeds are placed, you can tear a tiny part from below and place them into an empty container so that they stay dark until soaking time has passed.
Once drained of all water, we recommend plugging these trays back up with one final layer. Just make sure not too much goes on top, or else there may not be enough space left over.
Step 2: Planting Seeds
Take the seed(s) of your choice and place them carefully into the Rapid Rooter Plug's hole. Make sure not to drop them too deep! The top of the seed should be level with or slightly below the surface of the soil (or mulch, depending on what you're using).
Once placed within plugging holes, cover over with more soil just enough where the seeds are barely visible. Once planted, don't touch these plugs for at least 2 weeks, or else your seedlings will be destroyed. The best way to water them is by pouring water into the plug itself so that it flows down directly onto the soil without touching any seeds whatsoever. This prevents contamination and unwanted fungus.
Step 3: Keeping Moist and Covering Grow Tray
Keeping the rapid rooter moist is important to help it absorb water from its surroundings. To do this, fill your grow tray with a ¼ inch deep water. You will notice the plugs absorbing the moisture, and this way, they will remain hydrated.
You can increase the success of your germination rate by applying some heat. To do this, place a seedling heat mat below each tray and cover it with a dome so it remains warm and damp conditions for optimal growth.
Be sure not to over-water as these plants need less moisture than other varieties. But it still needs to be enough to get through their first stages in life successfully without any worries about drowning or drying out too much.
Seedlings Transplantation from Rapid Rooters Plugs
After a few weeks, the seedlings have grown enough to be placed under the light so they can continue thriving. The roots on the rapid rooter plug will start shooting out of its bottom when it's ready to be transferred into your hydroponic system or dirt.
It's important to note that the roots need room to spread out and grow. If you transplant your seedlings when they haven't grown enough, it will cause them to rot and die. This is one of the biggest reasons that seedlings die after transplantation.
With the use of rapid rooter plugs and a little patience, you will produce seedlings in no time! But how do we transplant the seedlings from the rapid rooter plugs into your hydroponic system?
Transplant Seedlings to your Hydroponic System
You can transplant your seedlings into a hydroponic grow medium, or you may prefer to have them growing outside in dirt and soil. After moving the young plants over from their original containers to your hydroponics, supply them with just enough nutrient solution.
You can move your seedlings to hydroponics in two different ways:
Remove the plants from their original containers, gently separate the plants into individual sections, and then repot each into a Rapid Rooter plug filled with grow medium.
Removing a small part of the top of each Rapid Rooter plug containing hydroton and then gently separating the plants into individual sections. Repot each plant section into a Rapid Rooter plug containing grow medium.
Moving the seedlings to hydroponics in this manner will make it easier for you to separate and transplant your plants when they get older. Also, placing your seedling roots directly into hydroton will help establish good root structure once they get older.
Repotting Seedlings into Rapid Rooter Plugs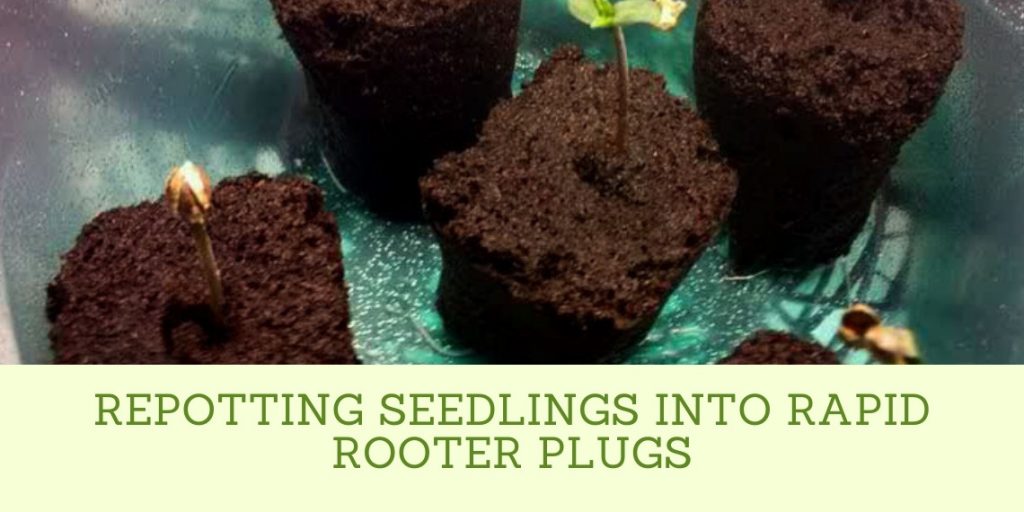 Wait until the seeds have sprouted their first set of leaves.
You should wait until your plants have begun sprouting their first set of small leaves to transplant them into Rapid Rooter Plugs. That way, you will avoid having the delicate root structure damaged by replanting too soon.
Keeping the soil warm also helps increase the rate at which your plants grow, so be sure to transplant your seedlings in a warm room.
To repot the seedlings:
Fill a Rapid Rooter plug with moist grow medium and gently push it into the hole in the bottom of the tray until only about 1/2″ (1 cm) sticks out of ground level.
Gently loosen your seedling from its original container, and then separate the plants into individual sections.
Place a seedling section on top of the Rapid Rooter plug containing grow medium.
Gently push the seedling away from you with your thumbs as you simultaneously pull it out of its original container using your fingers?
Cover the seedling section with grow medium and lightly pat it around to hold everything in place.
Fill a Rapid Rooter plug with moist grow medium, and then push it against the stem of each seedling until only about 1/2″ (1 cm) sticks out of ground level.
Lightly pat the grow medium around all of the seedlings' stems to hold them in place.
Make sure your seedlings get enough light and water. In addition, make sure they receive the right balance of nutrients. This way, they will develop a strong root structure for when it is time to transplant them into their final hydroponic height growing containers.
Using Rapid Rooter Plugs for Cloning
Cloning is said to be one of the easiest ways in which you can reproduce plants in your garden. You can use Rapid Rooter plugs for this process or any other similar product.
They are designed to help the roots grow faster and more effectively than they would in the dirt, so you should have less difficulty when growing cloned plants. You can use them as long as they've been soaked in water for a few hours. However, you shouldn't leave the plant sitting in the Rapid Rooter for too long.
That's because if it begins to rot, it will take root and weaken the plant, making it more susceptible to disease and other problems.
If you want to root your plants, it's best to use them in water, or you can try rooting them in soil. Either way, you will have much better results than if you simply planted cuttings.
Rapid Rooter Plugs are often used when cloning plants in hydroponics systems, so they should work for any system that provides a constant source of water. You will need to check the roots on your plant regularly, though, and make sure they never dry out in between waterings. This is crucial for any system that uses hydroponics, which are growing methods that don't use soil.
If you are using another form of growing medium when cloning plants, you should still care for the Rapid Rooter Plugs as you would any other product.
They can be used in soil or a hydroponic system, and they will help the roots grow quickly and evenly for a healthy plant. This is an easy way to boost plant growth by using products that are designed just for this purpose.
Rapid Rooter Plugs are developed to give the young plant plenty of oxygen. This is crucial for a strong growing environment and can lead to healthy plants that will produce large crops when they reach maturity.
The Bottom Line
Rapid rooter plugs are an easy and convenient way to germinate seeds. By following a few simple steps, you can have healthy seedlings in no time. Rapid rooters make it easy to get your plants started off on the right foot, and they take up very little space in your garden. If you're looking for an easy way to start your plants, consider using rapid rooter plugs.