Mushrooms are a great way to add flavor to your dishes, and they're also a healthy addition to your diet. But did you know that you can also grow mushrooms in your vegetable garden? It's true! And it's not difficult, either. In this article, we will show you how to do it.
In addition, mushrooms are also beneficial to grow them in your vegetable garden. Why?
Because they keep the soil humid, if you've ever grown mushrooms, you know that they love humidity and dampness. This is why they grow so well in the forest; there's lots of moisture and plenty of shade as well.
Mushrooms release moisture into the air around them, making it easier for other plants to absorb moisture into their roots. This is why it's recommended that you try to grow mushrooms in the vegetable garden.
Mushrooms also help the soil retain its nutrients. Not only does this benefit the growth of other plants in the area, but it also keeps the soil from being depleted of nutrients. In addition, mushrooms keep certain types of harmful bacteria from growing in the soil.
Steps on How to Plant Mushrooms in your Garden
You can easily grow mushrooms in your garden. Mushrooms are a great addition to any vegetable garden, and they're really easy to grow. Just follow these simple steps, and you'll be enjoying fresh mushrooms in no time.
Step 1: Add some organic matter to your garden bed
Dust the surface of your outdoor beds with soil, and then add some organic matter to get things started. If you're using mushroom compost or manure, apply at a rate of approximately 20 lbs per 100 square feet of the garden bed.
Step 2: Till the organic matter into the soil
Till the surface of your outdoor beds to work the compost or manure into the soil. This will introduce helpful microorganisms to your garden soil, which is necessary for mushroom growth.
You can use a rotary tiller or power tiller if you like, but make sure to avoid planting in the area. The tilled soil should be fine and smooth like it has been raked.
Step 3: Introduce mushroom spores into your outdoor garden beds
Purchase commercial mushroom spore plugs, which are small dowel-shaped objects made from sawdust. They'll need to be applied according to the manufacturer's instructions.
They have holes drilled in them so that mushroom mycelium can grow through. Each plug contains hundreds of spores that will begin to sprout once they come into contact with soil.
Step 4: Water your outdoor beds well after you introduce the mushrooms spore plugs
Water your outdoor garden beds generously after introducing mushroom spore plugs. Be sure to water the soil at the base of each spore plug, and then put a brick or another heavy object on top. This will encourage mycelium growth, which will, in turn, promote mushroom production.
Once you see evidence of mushrooms growing above ground, remove the brick or other heavy object so that mushrooms will be able to grow properly.
Step 5: Harvest your mushrooms when they are mature
Harvest your outdoor-grown mushrooms when they are fully mature. This is typically about six months after planting the plug, though some mushrooms grow faster than others.
Mushrooms are a great addition to any garden because they have a very little negative impact on the surrounding environment.
As long as you use organic matter for your outdoor beds, you won't have to worry about introducing chemicals or other pollutants into your soil. The best part is that mushrooms will continue to produce through the summer.
Types of Mushrooms You Can Grow in Your Vegetable Garden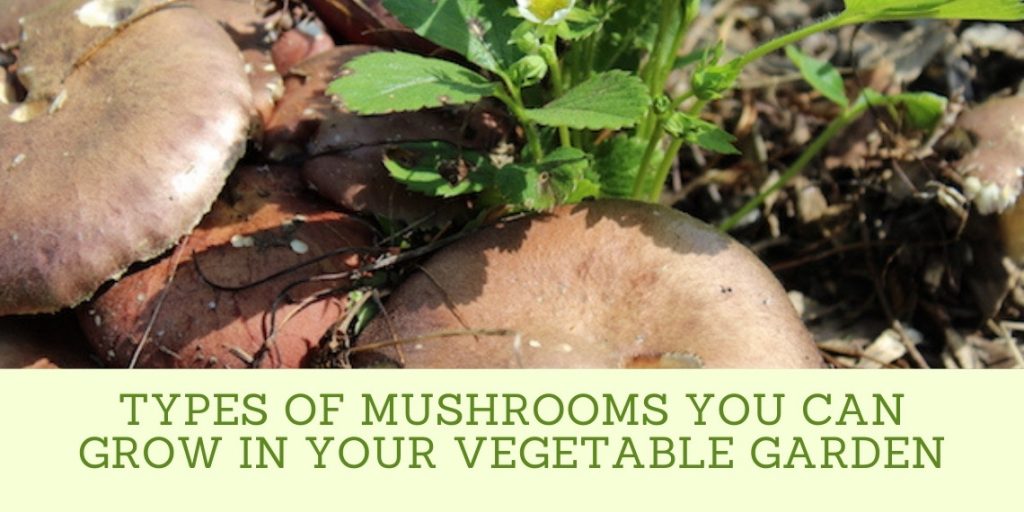 There are many different types of mushrooms that can be grown in your vegetable garden. These mushrooms are edible and can be used in dishes such as stews, soups, sauces, casseroles and even burgers.
Let's explore the different types of mushrooms you can grow at home – Button mushrooms, Oyster mushrooms, Enoki Mushrooms and more.
Mushrooms are very easy to grow and can be grown in your vegetable or flower garden. You can even grow mushrooms indoors. There are many different types of mushrooms you can grow depending on how much space you have if you want a continuous harvest and what type of flavors you like the best.
Common Types of Mushrooms
Button mushrooms
These are the typical mushrooms you see in grocery stores and supermarkets. These are very easy to grow and can be grown indoors or outdoors.
Enoki Mushrooms
Enoki is a small white mushroom that looks like a string of pearls, typically used in salads or miso soups. These mushrooms do not need much space, so they could be grown indoors in your kitchen.
Oyster mushrooms
These mushrooms come in a variety of shades and grow close to the ground; they are typically used in soups and sauces. They can be grown outdoors or indoors on logs, stumps or even a tree branch.
Shiitake Mushrooms
This type is a dark brown mushroom with a meaty texture that is typically used in Asian dishes. It can be grown outdoors on logs or indoors on sawdust blocks.
Lion's Mane
Lion's Mane is a yellow to orange mushroom with a soft texture and unique flavor, typically used in sauces and soups. This type of mushroom needs more attention, so it can't be grown as easily as the other types of mushrooms listed here.
Maitake
Maitake is a brown mushroom with a hearty flavor that can be used in many different types of dishes, typically used in salads and soups. These mushrooms grow on the ground, and a bunch of them together look like a giant fairy ring, so they need plenty of room to grow, so it is best grown outdoors.
King Oyster
King Oyster mushroom is a large light brown mushroom with a meaty texture, typically used in stews and soups. This type of mushroom has to be grown outdoors in order for it to thrive, which is why it would not be suited for an indoor garden.
Mushrooms like button, oyster, shiitake, enoki and maitake all have great flavor, so they are often used in cooking dishes on their own. They also work well together when added to another dish or mixed with other mushrooms that grow differently or have a stronger flavor.
For example, you could mix button mushrooms, maitake and lion's mane mushrooms to create a delicious sauce that could be used on pasta.
Growing Different Mushrooms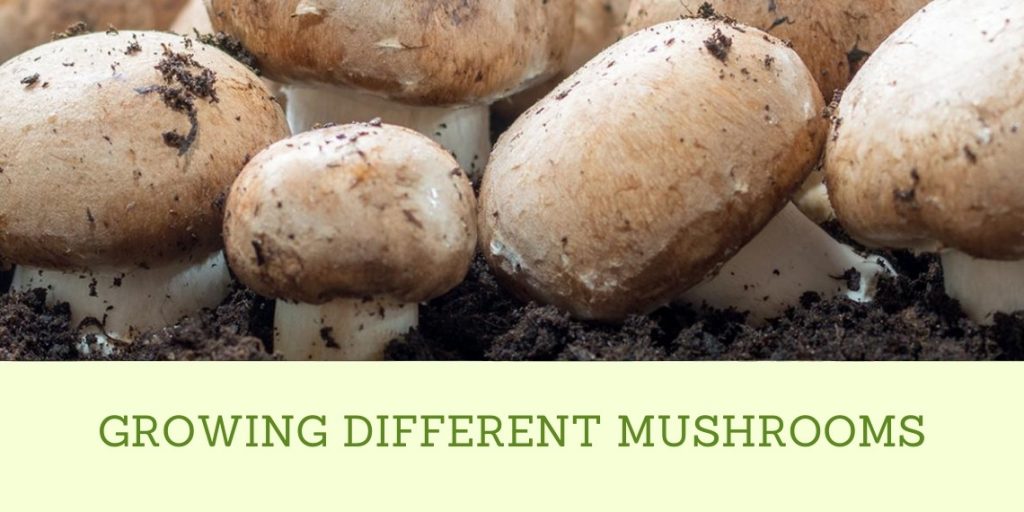 When it comes to growing mushrooms, the type of mushroom you choose will determine how often you need to harvest them and what tools you will need in order to do so.
Button Mushrooms
If you are growing button mushrooms, then all you would need is some pieces of old newspapers (make sure they are printed on both sides), a plastic bag and some soil. You can put the soil in a pot, or you can make a small hole in the ground, add the mushroom spawn and cover with a thin layer of earth.
It's important to keep them moist, but not too wet-there is nothing worse than going out to harvest your mushrooms only to find out they have been drowned.
You would need to keep harvesting the button mushrooms until they stop growing or begin to rot. At that point, you could pull the soil up and reuse it to grow a different type of mushroom.
Lion's Mane Mushrooms
If you are interested in growing lion's mane mushrooms, then all you would need is some small logs that have been drilled with holes and filled with the mushroom spawn.
You won't need any plastic or rubber band because these mushrooms do very well in humid environments. You can find the spawn at your local gardening center, and if you are just growing one log, then it should be enough for your needs.
Enoki Mushrooms
If you are interested in growing enoki mushrooms, then all you would need is some ice cream buckets, sawdust (or another type of wood chips), water and some newspaper. You can put the logs vertically into the bucket or horizontally on top of it-just make sure there's about an inch between them.
After they begin to grow, cover the buckets with the newspaper and keep them in some shade. If you find that they are drying up too much, then put an additional layer of newspaper on top.
Maitake Mushrooms
If you are interested in growing maitake mushrooms, then all you would need is some logs or pieces of wood that are about 3-4 inches in diameter. You can drill holes into the log, put the mushroom spawn inside and wrap it with clear plastic sheeting.
We recommend using a rubber band to secure them because they tend to blow around quite a bit. Since this type of mushroom doesn't need much water, you can place it in a shady spot and let the rain handle the watering for you.
Shiitake Mushrooms
If you are interested in growing shiitake mushrooms, then you will need some logs or branches from an oak, ash or elm tree. You can slice the branches into 1-foot-long logs and drill holes into them that are about 3 inches deep.
After you have done this, you will need to soak the logs in some cold water for 9-12 hours and then add the shiitake mushroom spawn (which looks like sawdust) while wearing gloves.
You would then need to cover the logs with some plastic wrap and a rubber band. Just make sure there are plenty of air holes poked into the plastic. The best environment for these mushrooms is between 60-80 degrees Fahrenheit.
Therefore, you might have better luck growing them vertically on a tree trunk that has been cut in half rather than horizontally on a log.
Maitake Mushrooms
Maitake mushrooms grow well in sawdust, so you would need to set up a greenhouse or use an indoor grow-tent in order for them to do well. You will also need a large area outside where they can thrive, and you will have to water them regularly.
The more hydrated they are, the larger and more powerful they become. So, it's important to be mindful of the amount of water you are giving them.
The Bottom Line
You can buy shiitake, enoki and maitake mushrooms at any grocery store, but oftentimes they are expensive or just not organic. If you want to save money, we recommend buying some spawn or mushroom roots online. It is much cheaper in the long run, and it will also be fun to do.
While many different types of mushrooms can be grown inside, some grow better in certain climates than others. While you could use a greenhouse to help grow most mushrooms (especially shiitake and maitake), you would need to develop an outdoor mushroom garden. That is if you want to try growing some of the more exotic types.
While mushrooms are typically used for medicinal purposes, they also taste great and can be added to many different foods to give them a complex flavor profile. Growing your own mushrooms is not only affordable, but it's also fun.