Growing cucumbers in your garden are much more fun than you can imagine. Cucumbers are easy to care for, which makes them the ideal plant for beginner gardeners. Plus, they come in a range of colors, shapes, and sizes.
Cucumbers are the ideal plant for the gardener who has a small space or who wants to grow food but doesn't want to spend all day outside in their garden.
The plants need only 5-6 hours of sunlight each day, which makes them perfect for growing on patios or decks. They can even be grown indoors in pots on a sunny windowsill.
Cucumbers can be eaten fresh or used for pickling and preserving. You can make delicious dishes like cucumber salad to serve at your barbecue this summer, and you can also use them in delicious homemade punches.
Hydroponics is a type of gardening that doesn't rely on the soil at all but instead uses a nutrient-rich water solution to feed plants. If you're looking to start a new garden this year, try growing some hydroponic cucumbers.
Varieties of Hydroponic Cucumbers You Can Grow
There are many different varieties of hydroponic cucumbers that you can grow in your own garden. They vary in size, taste, color and more. You can choose from long and slender slicers or the shorter, fatter pickling cucumbers.
No matter what you're looking for, there's an option out there for you. Here are the different types of hydroponic cucumbers you can grow:
Burpless
These cucumbers are very similar to standard pickling cucumbers, but they also tend to be sweeter, which makes them an excellent choice for people who don't like the bitter taste of regular cucumbers. These are great, both fresh and in pickles.
Bitter-Free
Due to the lack of bitterness, these cucumbers are perfect for those who don't enjoy eating regular cucumbers. You can eat these raw or in drinks to get the nutrients without the bitterness of regular cucumbers.
Spineless
Spineless cucumbers are technically summer squash, and they require a trellis to grow. They grow up to 4 feet long, and the fruits actually look more like zucchini than cucumbers. If you would like to try something different, these are the perfect choice for you,
Gynoecious Cucumber
This is a very rare type of cucumber. Gynoecious cucumbers have both female flowers on the plant, which means they are all-female plants. These types of cucumbers tend to grow faster and produce larger crops than standard varieties.
How to Grow Cucumbers Hydroponically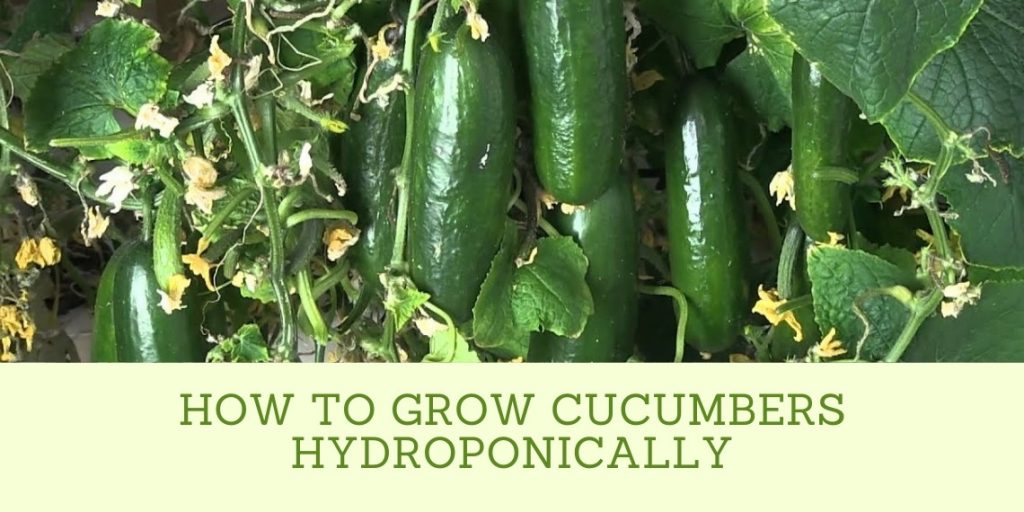 Cucumbers are one of the most popular vegetables in the world, next to tomatoes. Cucumbers are often grown hydroponically because it is an easy way to grow them without using any soil or pesticides.
Here are the steps you need to take to successfully grow cucumbers hydroponically:
Seed Germination
When seeding your cucumber seeds, you will want to place them in a damp paper towel so that they can get enough moisture from the atmosphere. They should have about six hours of germination time before being placed into the growing medium.
Cucumber Germination Medium
After you plant your newly seeded cucumber seeds, you will want to put them into an organic growing medium. This will give your cucumber plants enough nutrients to survive and grow well hydroponically.
If you are using Rockwool, make sure you wet it down thoroughly before seeding or transplanting anything onto it.
Caring for New Cucumber Plants
After placing cucumber seeds in their growing medium, you will want to make sure they stay moist and get enough sunlight. You should also keep the temperature at about 70 degrees Fahrenheit (21 Celsius).
After a few days, you will start to see cucumber plant leaves coming out of the soil, indicating that your seeds have germinated successfully.
Transplant Into Your Hydroponics
After a few days, your cucumber plants will be ready to be transplanted into your hydroponic garden. Make sure the plants are healthy and have plenty of leaves before transplanting them.
If you are using Rockwool, be very careful not to plant the cucumber too deep – just enough so that the roots are in the medium.
Watering and Fertilizing
After your cucumber plants have been transplanted into your hydroponic garden, it is important to water them regularly. You should also fertilize them every week or two with a high-quality hydroponic fertilizer.
This will help ensure that your plants get all the nutrients they need to grow to their full potential.
Cloning
For cucumbers, it is best to clone using a cutting rather than rooting range from seed. Using this method, you will save yourself a lot of time and hassle when growing hydroponic cucumbers.
Make sure to use a cutting that has at least three nodes and then place it in a bottle of water. After two days, carefully transplant your cucumber plant into its hydroponic basket using the steps above.
Harvesting
After about eight weeks or so, you will be able to pick your first cucumbers from your hydroponic garden. Make sure you get to them before the birds do. If you have a cucumber plant that is producing well, keep cutting it back to promote new growth and maximize your harvest.
Nutrient Solution Requirements for Hydroponic Cucumber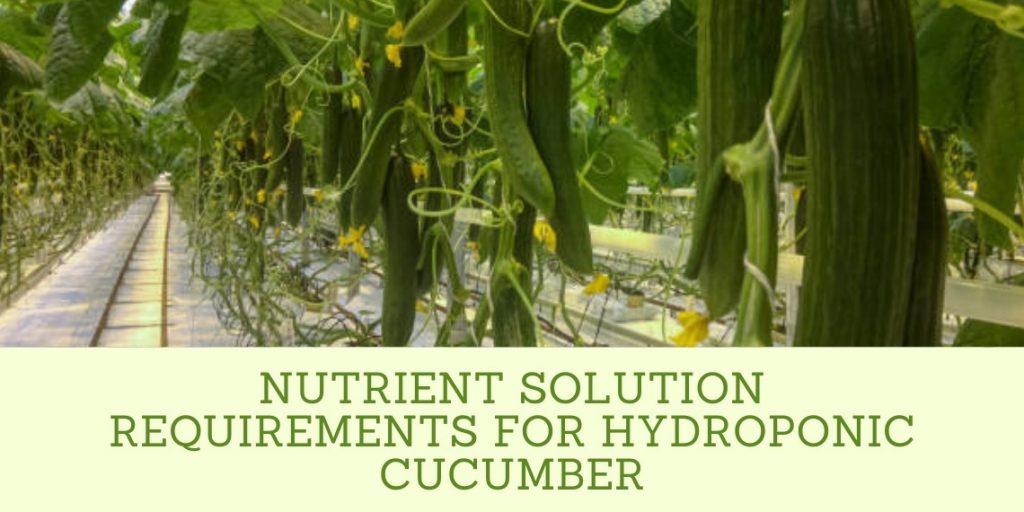 Hydroponic cucumbers need different nutrient solutions than other kinds of plants. For hydroponics, we recommend a solution that has low concentrations of nitrogen and high concentrations of potassium and phosphorous.
This is because the root systems of the plant are much more dependent on those minerals than they would be if they were grown in soil or another medium.
When growing cucumbers hydroponically, avoid salt build-up by checking the EC (electrical conductivity) of your water regularly. If you find that the EC is too high, adjust it by adding more freshwater or using a reverse osmosis unit as needed.
Furthermore, the nutrient solution needs to contain the features below:
Nutrient pH Range: The appropriate pH range for your nutrient solution should be between 5.0 to 6.0.
Temperature: The temperature requirements of the hydroponic cucumber plant should be between 70- and 80-degrees Fahrenheit.
Light: The plant should also receive at least 12 hours of light during the day. If it is grown in a greenhouse, then you need to cover it with plastic film to provide the necessary intensity and penetration for photosynthesis.
Hydroponic Cucumber Nutrient Solution Recipe
If you want to prepare a nutrient solution for hydroponic cucumbers, then the following recipe should come in handy:
5 gallons tap water
3 Tbsp. magnesium sulfate
1 Tbsp. calcium nitrate
3 Tbsp. potassium chloride
2 Tbsp. ammonium nitrate
0.5 tsp boric acid
The nutrient solution needs to be prepared in a 10-gallon container. This recipe provides all the essential elements needed by the plant to grow and yield crops. Therefore, it is advisable that you stick with this one.
As for the preparation of the mixture, you need to put all the ingredients in your container at once and stir until they are fully dissolved.
Once you have prepared the nutrient solution, it is recommended that you allow 30 minutes for it to cool down to room temperature before pouring it into your container of hydroponic cucumbers.
Furthermore, the nutrient solution should be replaced every two weeks or after a maximum run time of 15 days.
The Bottom Line
Hydroponic cucumbers are a great choice for gardeners who want to grow their own vegetables but don't have a lot of space. This type of gardening grows plants in water without the use of soil.
Hydroponic cucumbers are easy to grow and can be grown indoors or outdoors.
Hopefully, this article has provided you with some interesting and helpful tips on how to grow hydroponic cucumbers. If you follow these simple guidelines, you should be able to grow hydroponic cucumbers with great success.
Apply the advice from this article on how to grow hydroponic cucumbers, and you'll soon enjoy a bountiful crop of delicious vegetables.