Growing hydroponic plants has a completely different set of requirements than growing in soil. One key factor is pH, and we're going to talk about the best hydroponic tomatoes here. So, keep reading on.
The best pH for hydroponic tomatoes is a topic many growers want to know about. Fortunately, we will be taking an in-depth look at what levels are ideal and why they matter so much when growing this type of plant.
Best pH for Hydroponic Tomatoes
The ideal pH for your yielding hydroponic tomatoes for water is between 5.0 and 6.8. The optimum range will allow you to take up adequate nutrients without any issues with nutrient lockout, which can happen when the numbers are too high or low in a solution.
While the ideal pH level in nutrient solution for your hydroponic tomatoes needs to have a range between 5.5 and 6.0.
Keep in mind your nutrient solutions pH levels should always be tested with quality testing kits to make sure they stay in the optimal range for the hydroponic tomatoes.
Why is pH Essential for Hydroponic Tomatoes?
One of the most important factors in hydroponic gardening is maintaining an appropriate pH for nutrient absorption. The rate at which the plant roots absorb the nutrients varies depending on different pH levels.
Additionally, maintaining a healthy environment can also reduce stress among both plant roots as well as leaves. It will also support the plant roots in absorbing the essential nutrients as well as maintaining the ideal pH range.
Keep in mind that not providing the right pH for the hydroponic tomatoes can lead to nutrient lockout and corresponding starvation of nutrients, even if you are giving them enough.
pH Levels in Your Hydroponic Tomatoes Measurement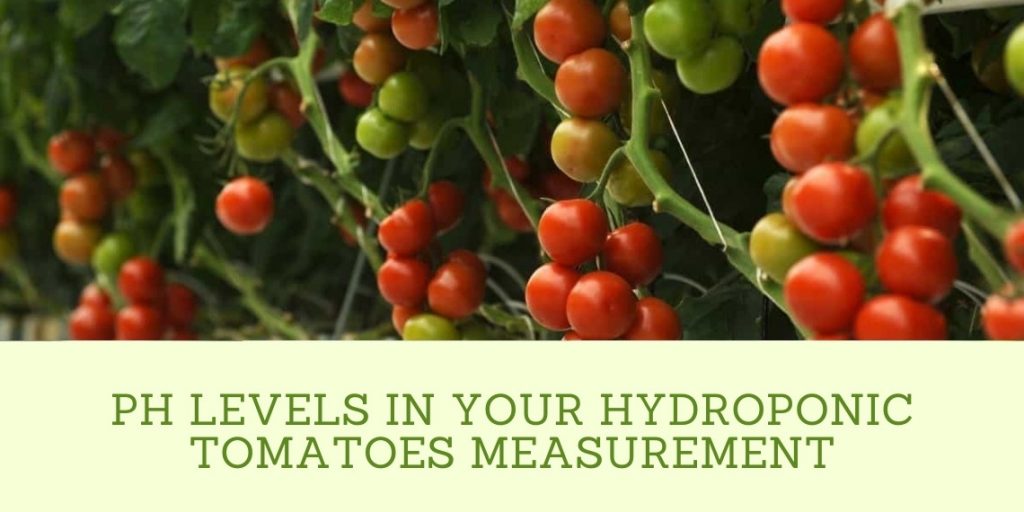 Keeping track of the pH level in your nutrient solution is crucial. It should always be tested after adding any nutrients or adjusters and if you change out additional bottles, make sure they match what's there already.
Some quality pH level measuring tools include the digital pH meter, pH test strips, and pH testing solution.
pH Levels in Your Hydroponic Tomatoes Adjustments
Keeping track of the pH and making appropriate adjustments will guarantee nutrient availability to your hydroponic tomato plants. If it ever looks like the pH is out of range, that is an indication for appropriate adjustments in order to maintain their health.
pH levels are important for the growth and well-being of your plants, but it's a good idea to allow some fallout. Most plants will not grow too fast when their pH changes drastically. This is because it can lead to stress in these circumstances without enough time for adjustment.
Therefore, we recommend allowing some time for your plants to adjust before changing the pH.
Nutrients Availability for pH Requirements in Your Hydroponic Tomatoes
It's important to be aware that changes in the range of pH values can affect the availability of certain nutrients. Some nutrients, including potassium, nitrogen, sulfur, phosphorus, etc., are available throughout a range of pH levels.
A lack of any one or more nutrients in your hydroponic tomato plants can affect their crop yield.
Too low a pH level will lead to excessive uptake by the plant, which sometimes causes certain disorders. Furthermore, high pH levels also impair nutrient availability and impede growth due to an excess of minerals.
Causes of pH Change in Your Hydroponic Tomato Plant
There are various factors that can lead to pH change in your hydroponic tomato plants. They are:
Growing Media
The type of grow media you make use of for your hydroponic tomatoes can be the deciding factor in whether or not they grow successfully. Some gardeners have found that certain types react with their solution, causing pH balances to become imbalanced and leading them away from success altogether.
Growing media like river rock, gravel, unprepared Rockwool, etc., can impede your system's pH level.
Gallon Per Plant
One other factor that can lead to pH change in your solution is if you don't have at least one gallon per plant. The concentration in your solution will vary depending on how much there was to start with. This could lead to changes and fluctuations within this range.
Organic Factor
A slight change in the pH of your hydroponics tomatoes can be caused by organic factors like bacteria and algae. The solution to this problem is to maintain a slightly acidic environment. You do this with care by keeping plants' roots clean and removing dead root materials from them every so often.